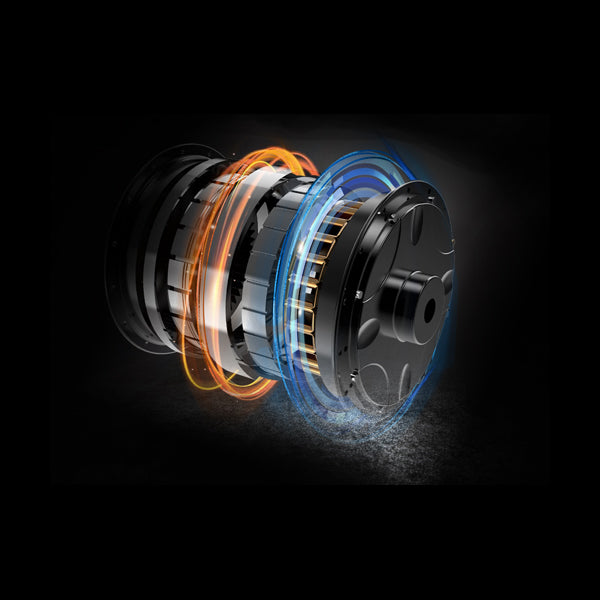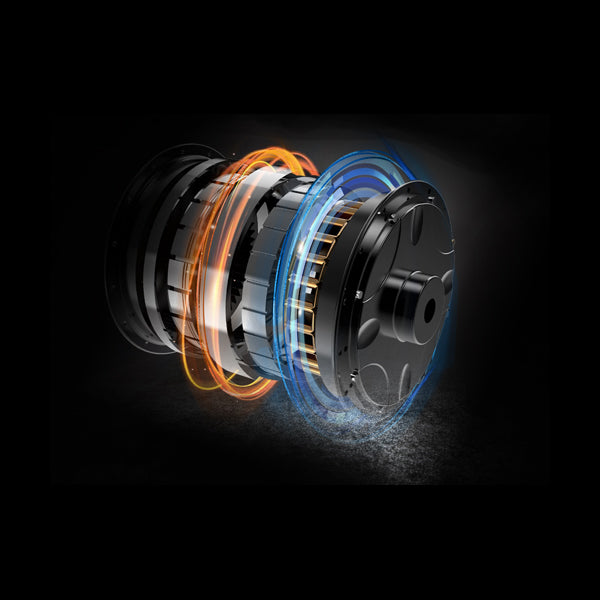 PERFORMANCE
750W BLUSHLESS MOTOR
750W MAX OUTPUT
750W Brushless motor is light in weight. Its internal use of star gear design, can amplify torque and improve energy efficiency conversion rate.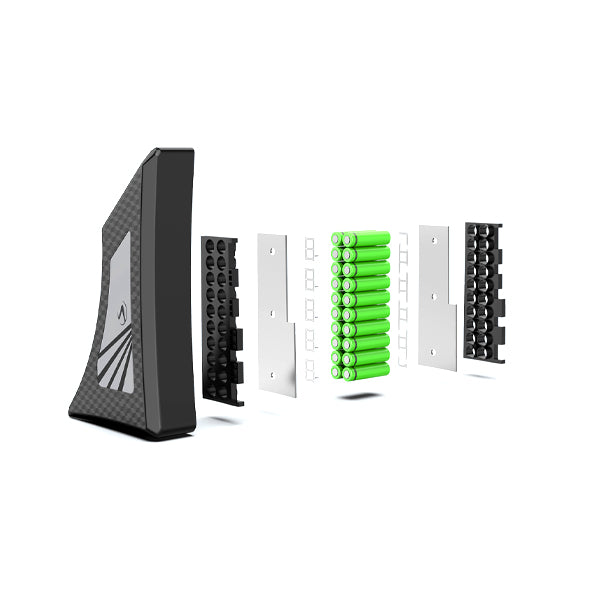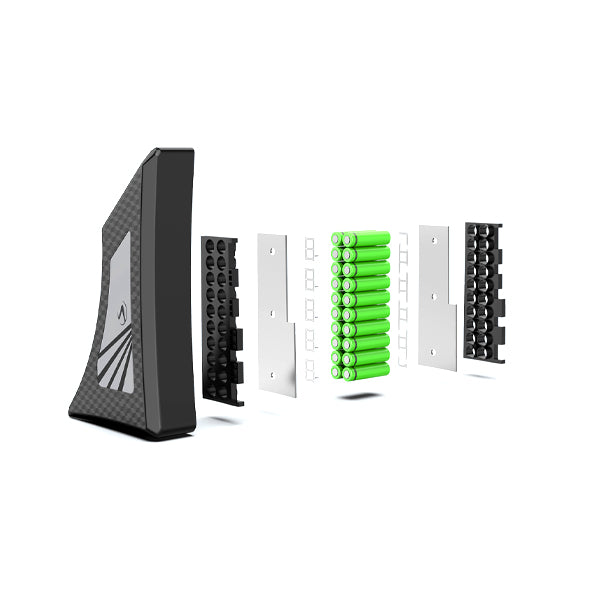 BATTERY CAPACITY
48V15AH
HIGH CAPACITY, WATERPROOF BATTERY
48V15Ah Removable battery completely hidden inside the frame, waterproof and dust proof. It can reach a mileage of about 70KM.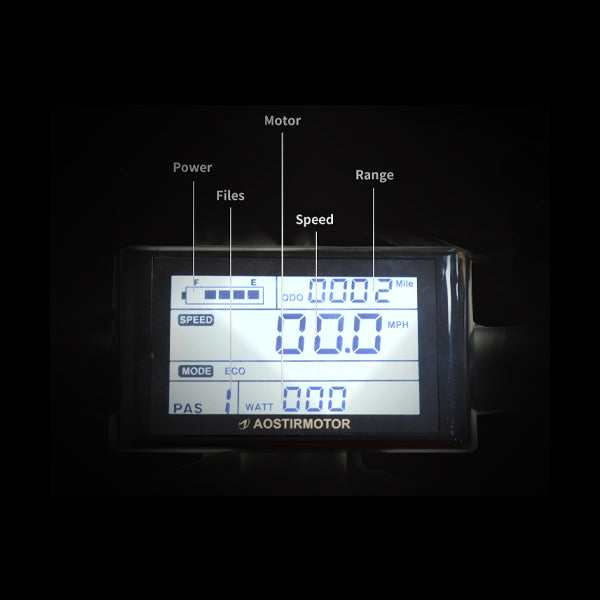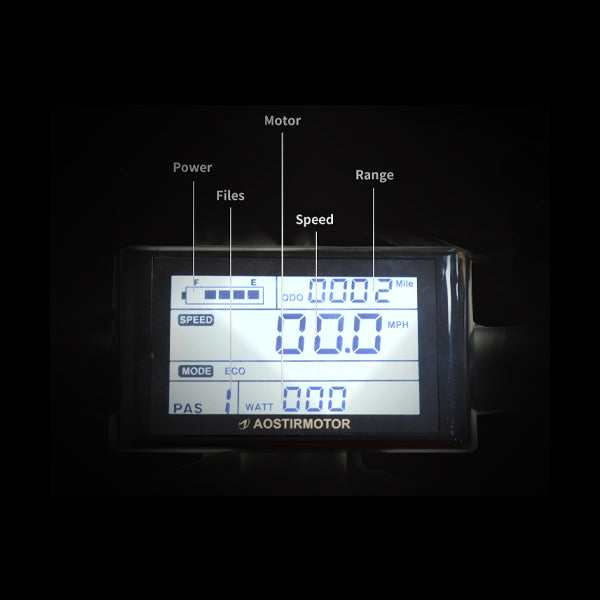 METER PERFORMANCE
SW-LCD DISPLAY
PROGRAMMABLE, FULLY CUSTOMIZABLE
S18 intelligent LCD instrument, brand new interactive interface, integrated gear switch, bicycle data view, power output setting, IP54 waterproof and dustproof quality are reliable.
Capability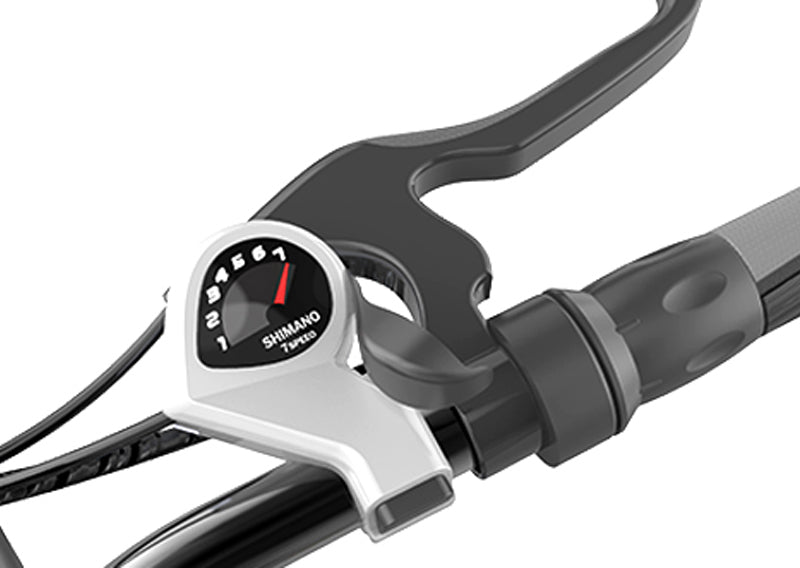 SHIMANO 7-SPEED GEAR
The Shimano 7 speed means you can shift to a larger cog for uphill riding and downshift to a smaller cog at high speeds. In combination with the pedal-assist system, you can adjust the suitable speed to complete your journey.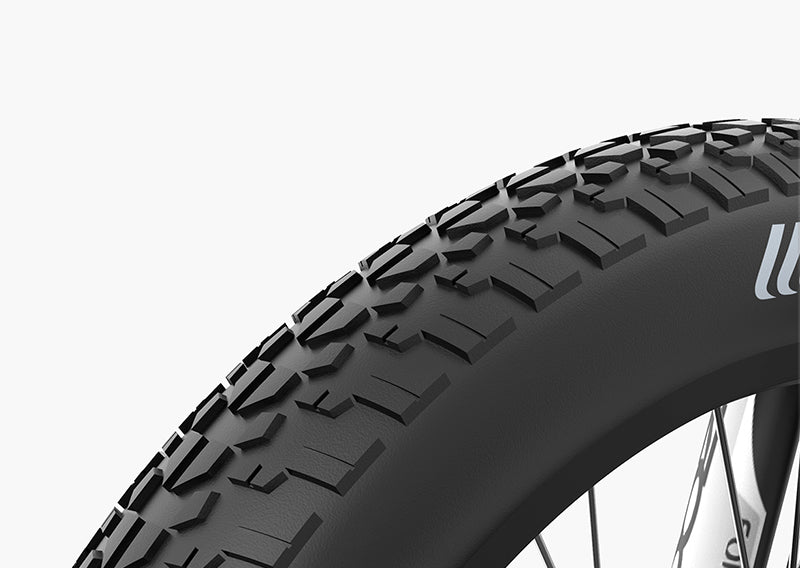 TIRES
26*4.0 inches wheel, comfortable and stable, suitable for all roads. has anti-skid and anti-vibration functions, and has a longer span, bigger, faster, and less effort.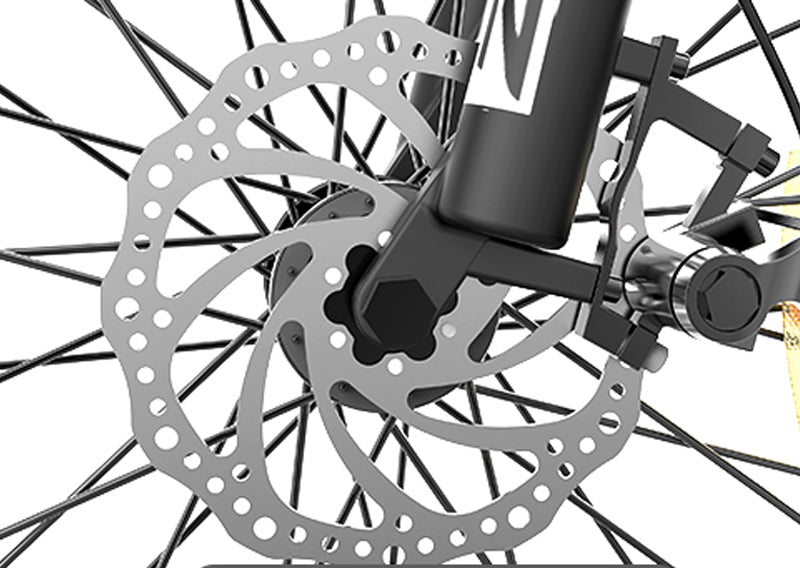 MECHANICAL DISC BRAKE
It adopts mechanical disc brake, dual system of front and rear disc brakes, fast heat dissipation, automatically cut off the power, the emergency brake can also brake efficiently and smoothly.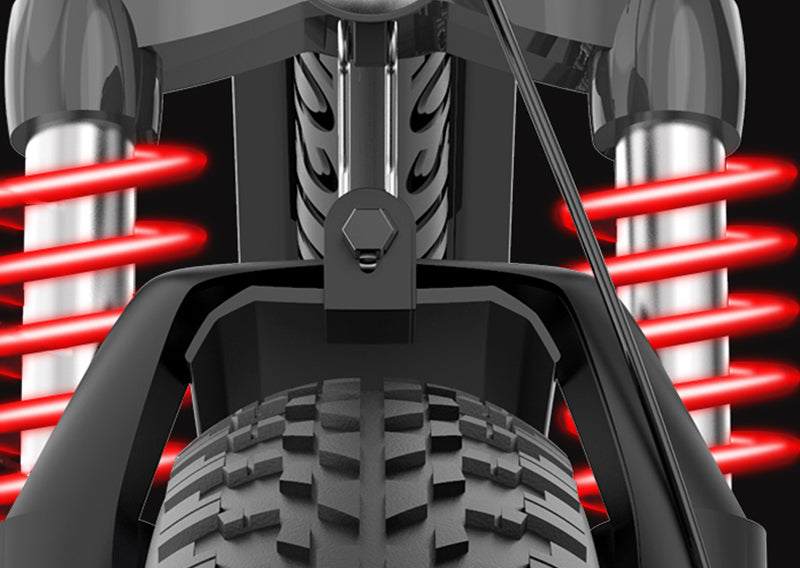 FRONT SPRING SUSPENSION
The front spring suspension enhances the shock resistance, provide excellent performance.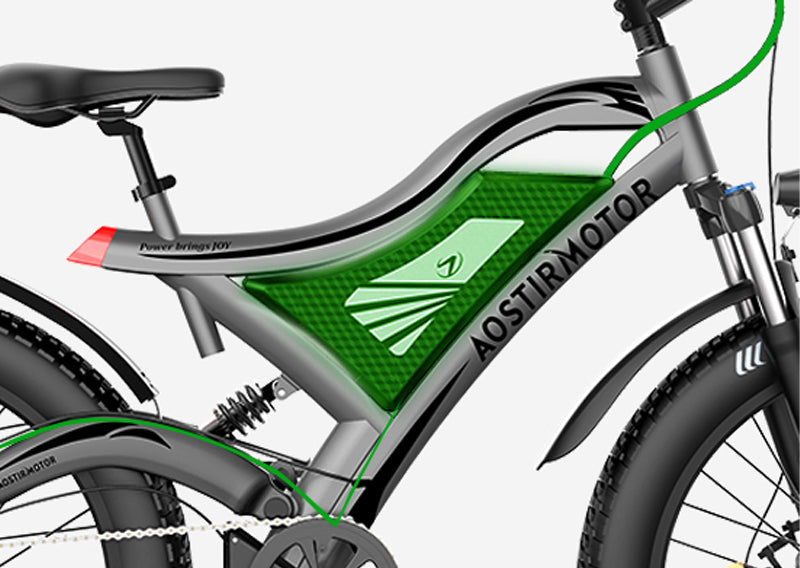 REMOVED BATTERY
Removable battery can be charged at home or anywhere completely hidden inside the frame, waterproof and dustproof.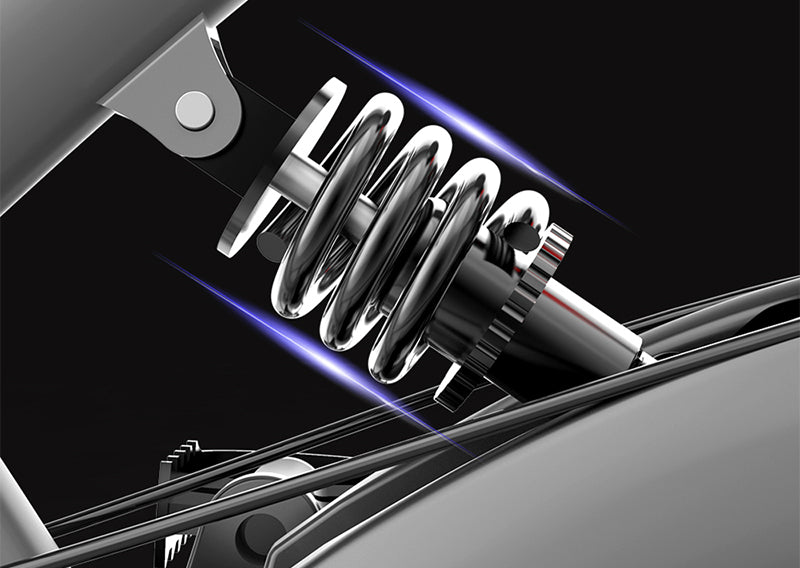 REAR SPRING SHOCK
Extra rear spring suspension for maximum comfort.
AOSTIRMOTOR S18
First choice for mountain biking
Specifications
Color
Green, Grey (Optional)
Frame
6061 Aluminum Alloy
Rim Material
Aluminum Alloy
Lithium Cell Capacity
48V 15Ah
Charging Time
4-6 hours (Recharge regularly to extend the life of lithium cell)
Brake
F/R Mechanical Brake (With 4pcs Brake Pads)
Tire
26x4.0 inch Fat Tire
Front Suspension
Fork Shock Absorption
Rear Suspension
Rear Spring Shock
Structure Shock Absorption
Lightweight Aluminum Alloy Frame
Light
With Front & Rear Light
Riding Mode
Pedal Mode/Boost Mode/Power-Mode
Ranges Distance
25-35km (Pure Power-Mode)
Tube Clamp
D1=30mm/1.18in  D2=38mm/1.5in
Handlebar Size
31.8 * 660mm / 1.25 * 25.98in
Stem Size
28.6 * 31.8 * 110mm / 1.12 * 1.25 * 4.33in
Saddle Size
27.2 * 250mm / 1.07 * 9.84in
Saddle Height
0.88-1.0m / 34.64 * 39.37in
Item Size
1.95 * 1.1m / 76.77 * 43.31in 
Package Size
1.63 * 0.82 * 0.28m / 64.17 * 32.28 * 11.02in
Package Weight
40kg / 88.18lb
Package Contents
Package Contents
1 * Electric Bike
Package Contents
1 * Li-ion Batterys
Package Contents
1 * Tool Kit
Package Contents
1 * Pedal
Package Contents
1 * Charger
Package Contents
1 * User Manual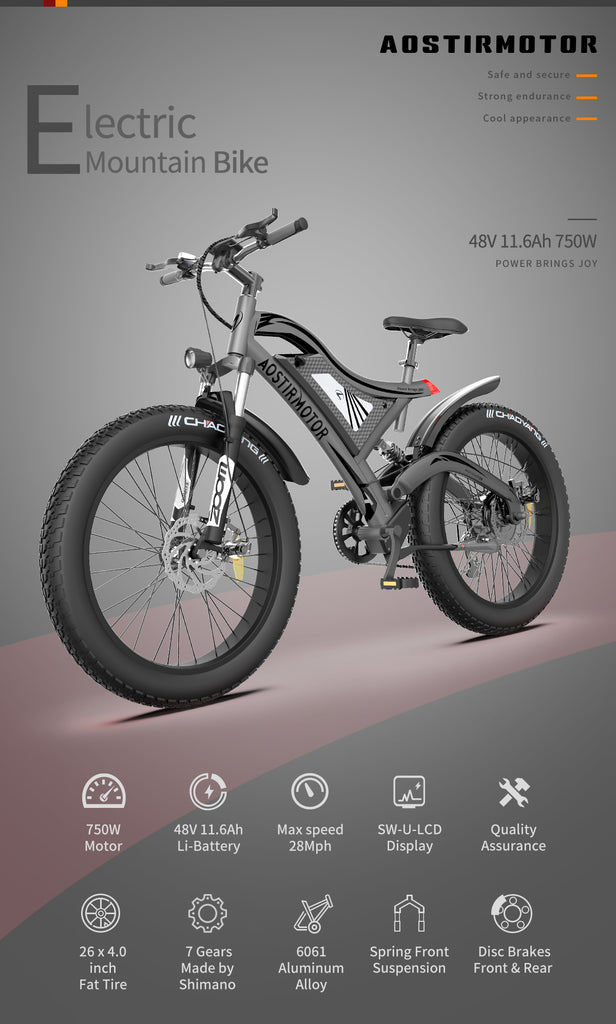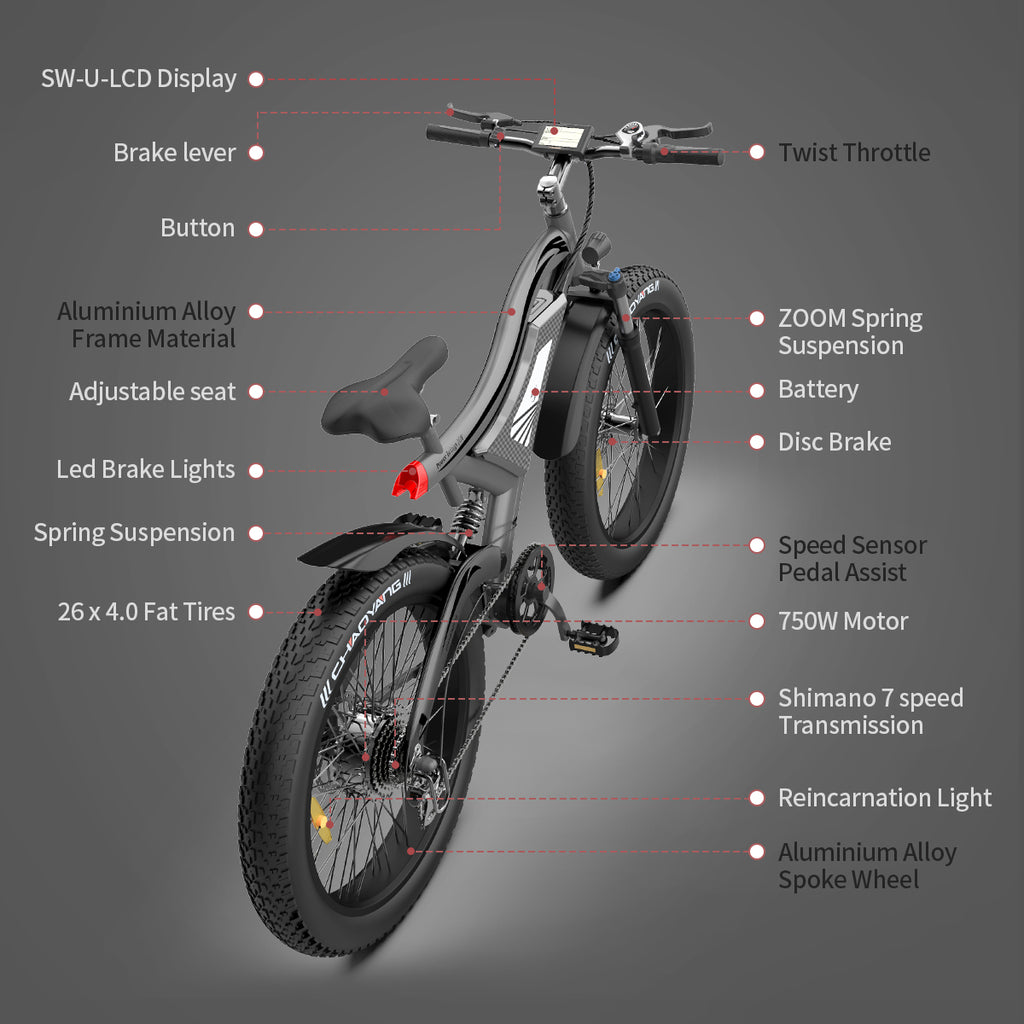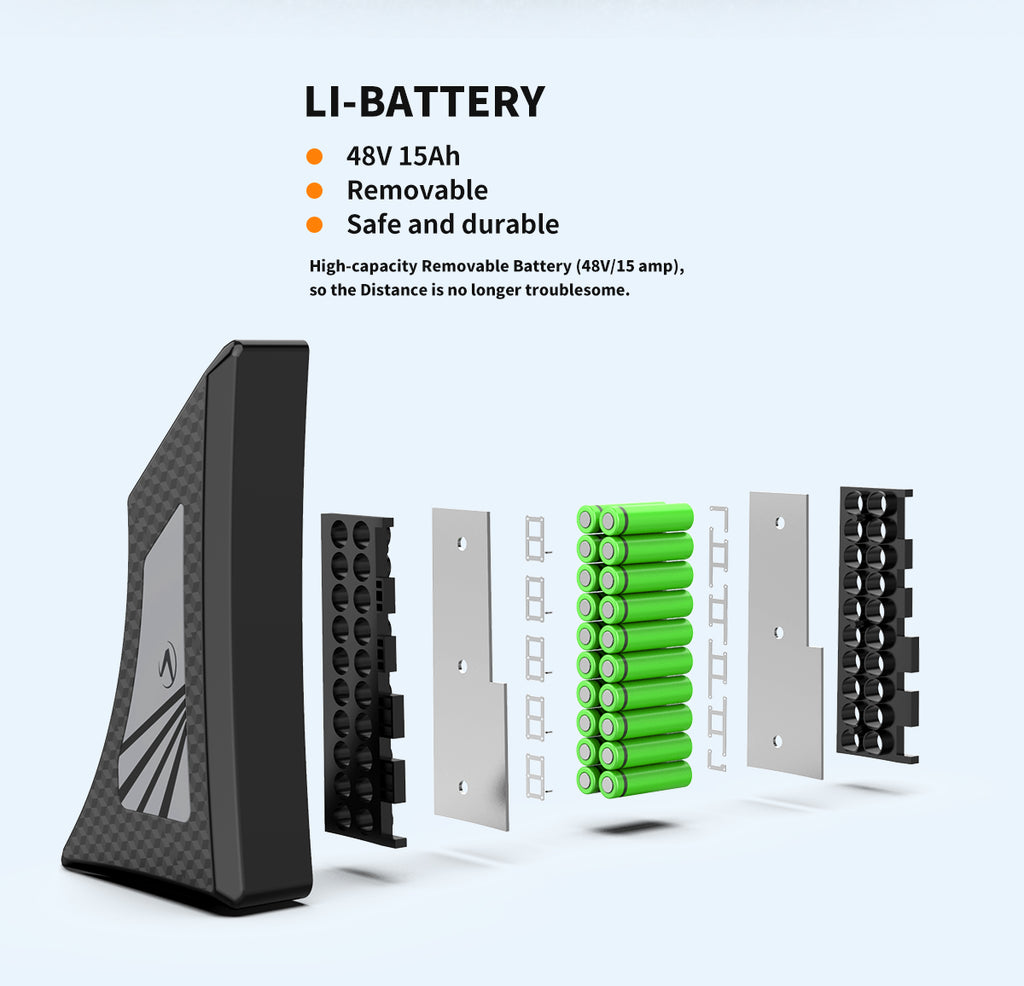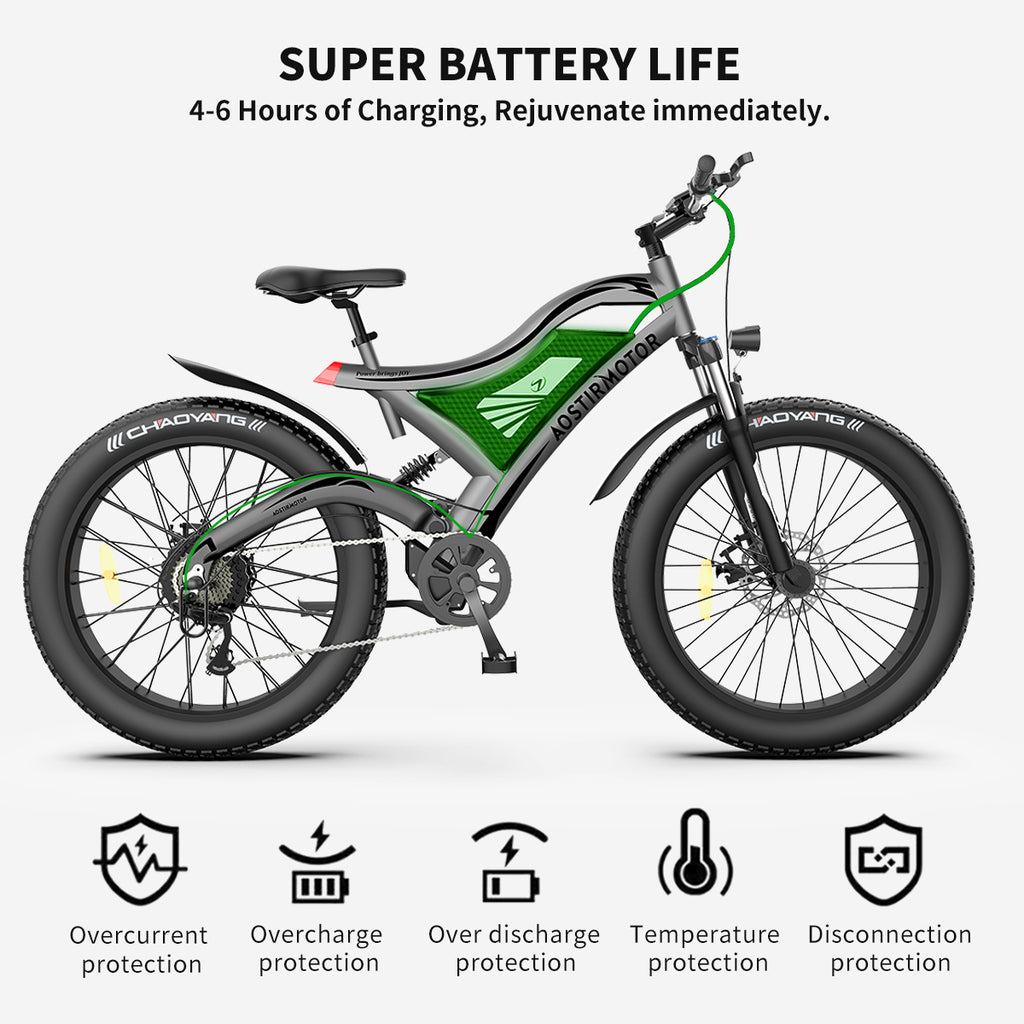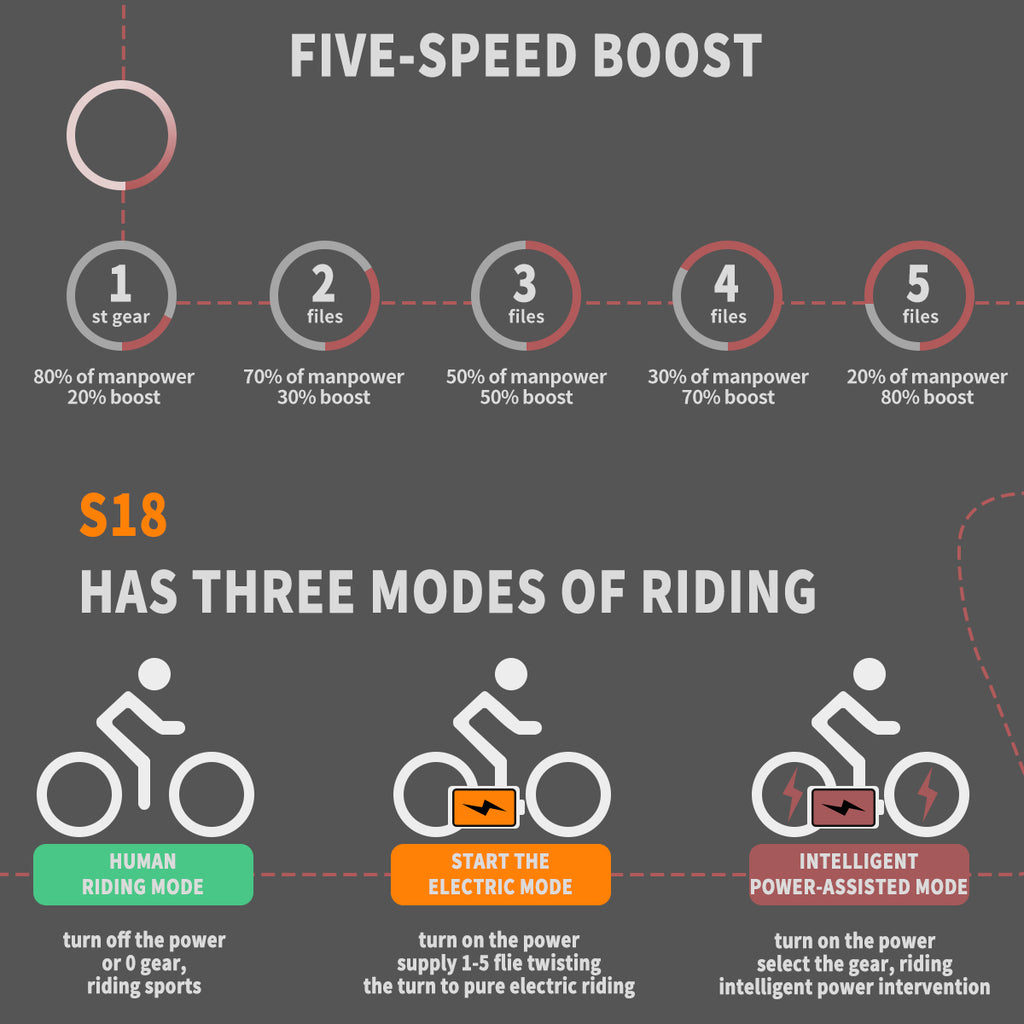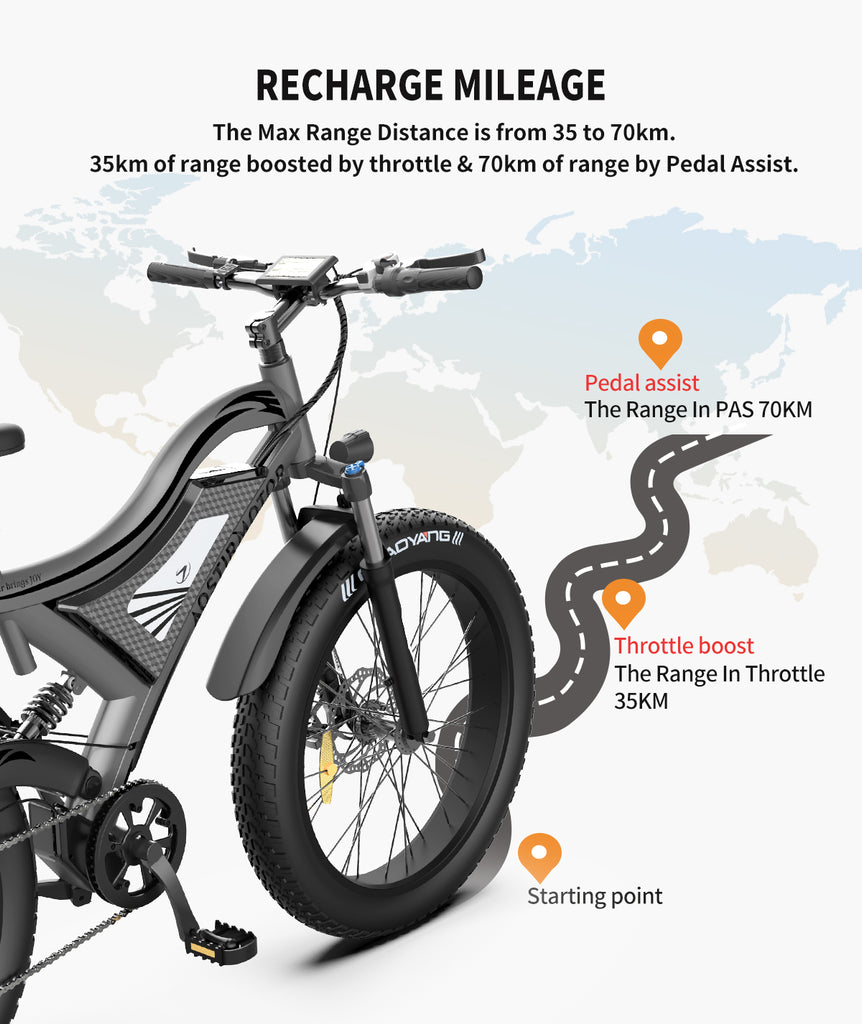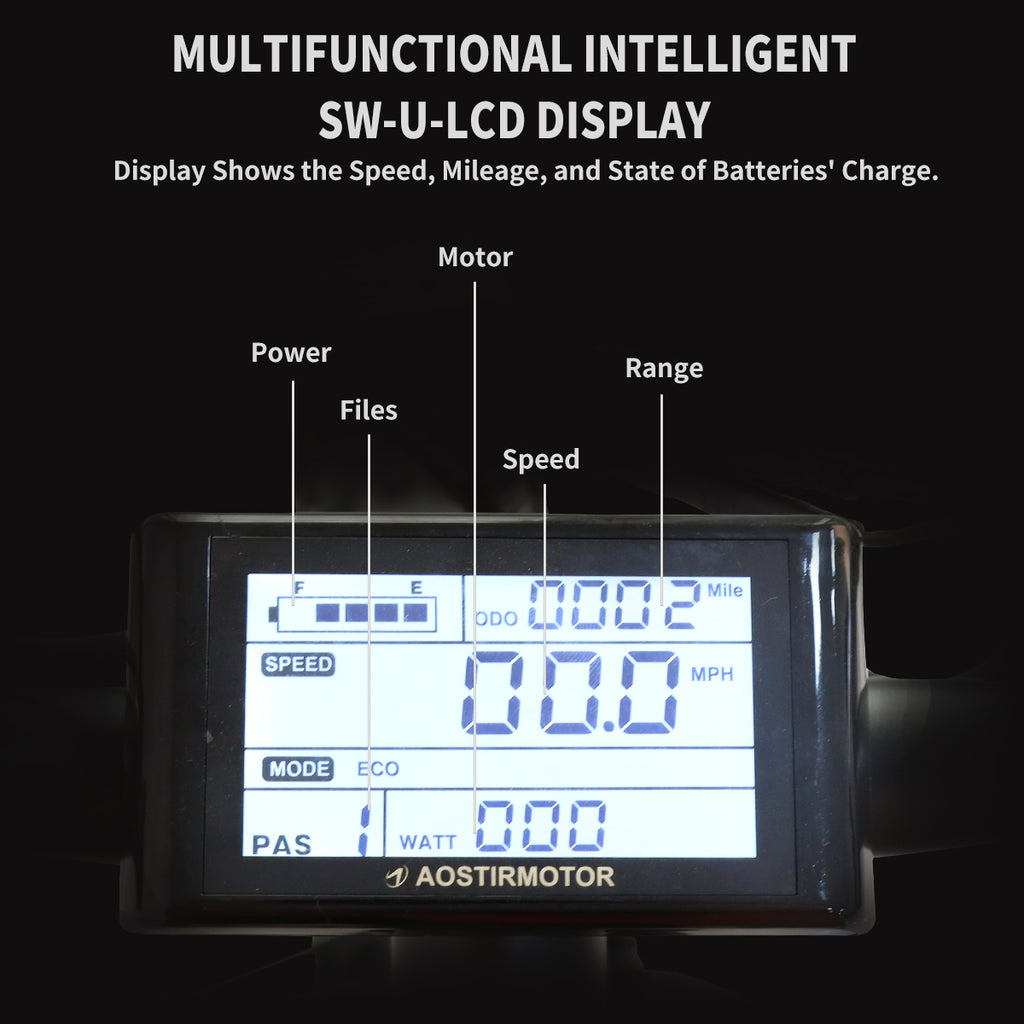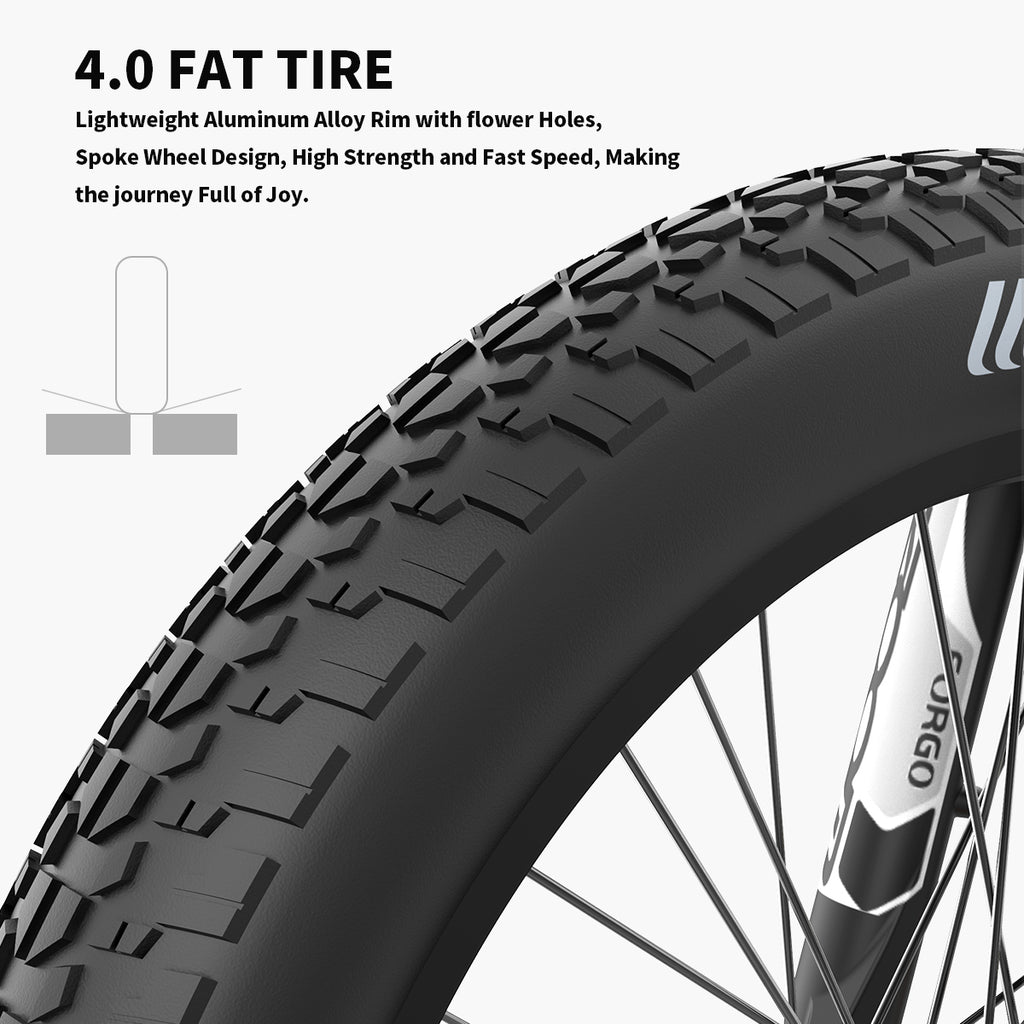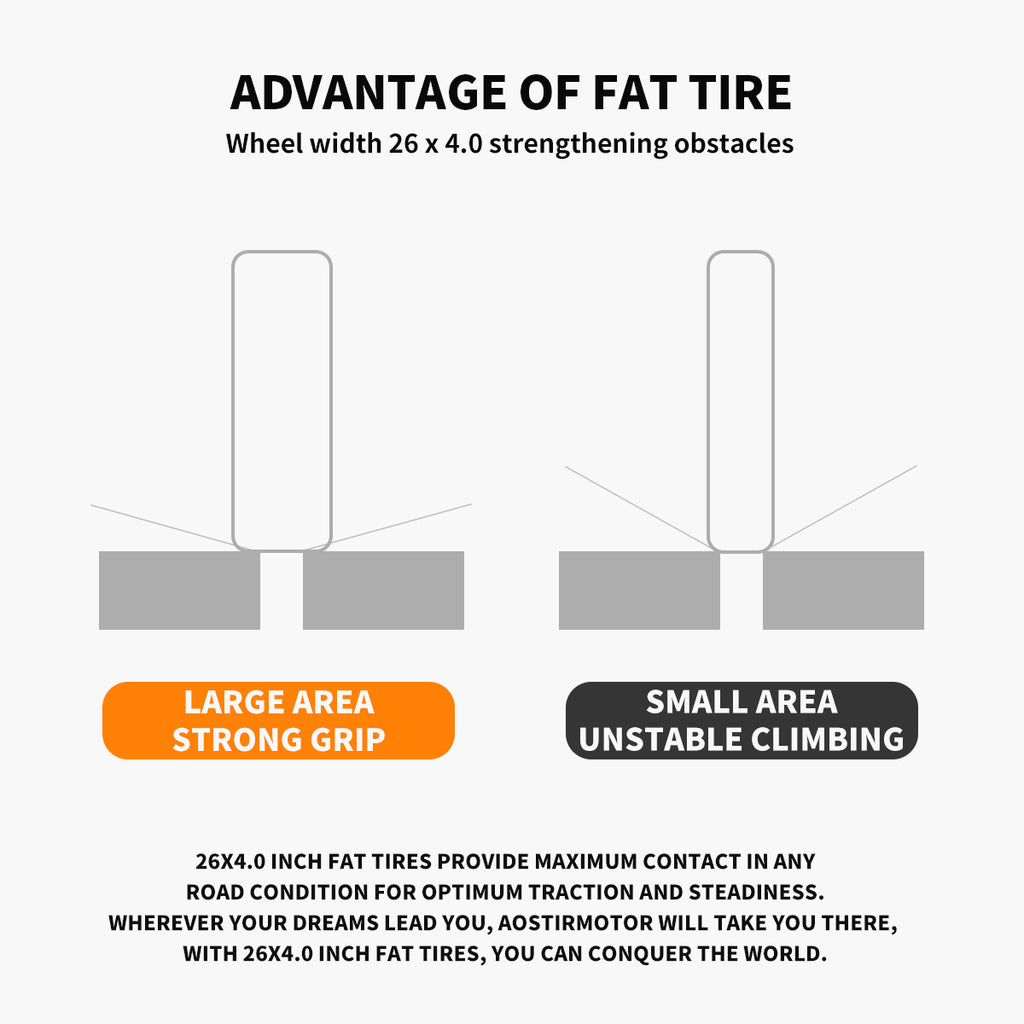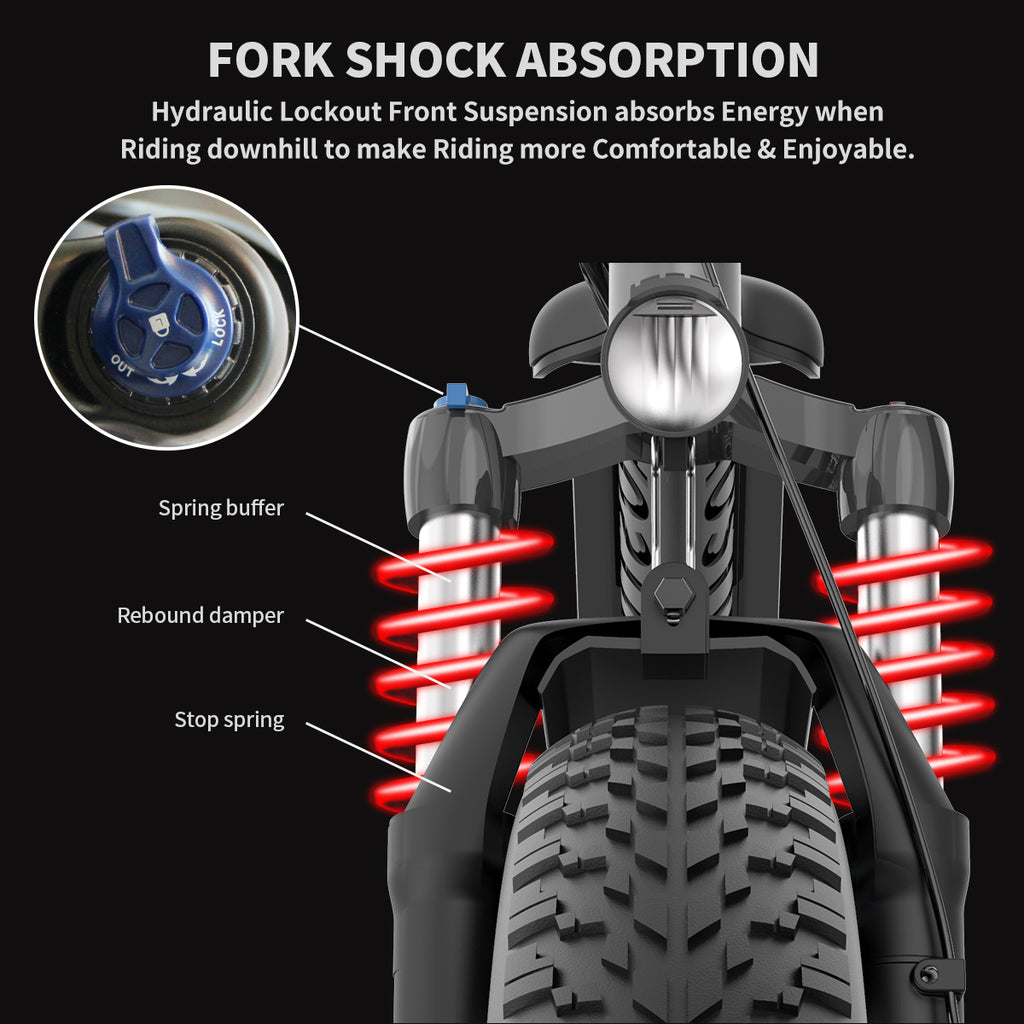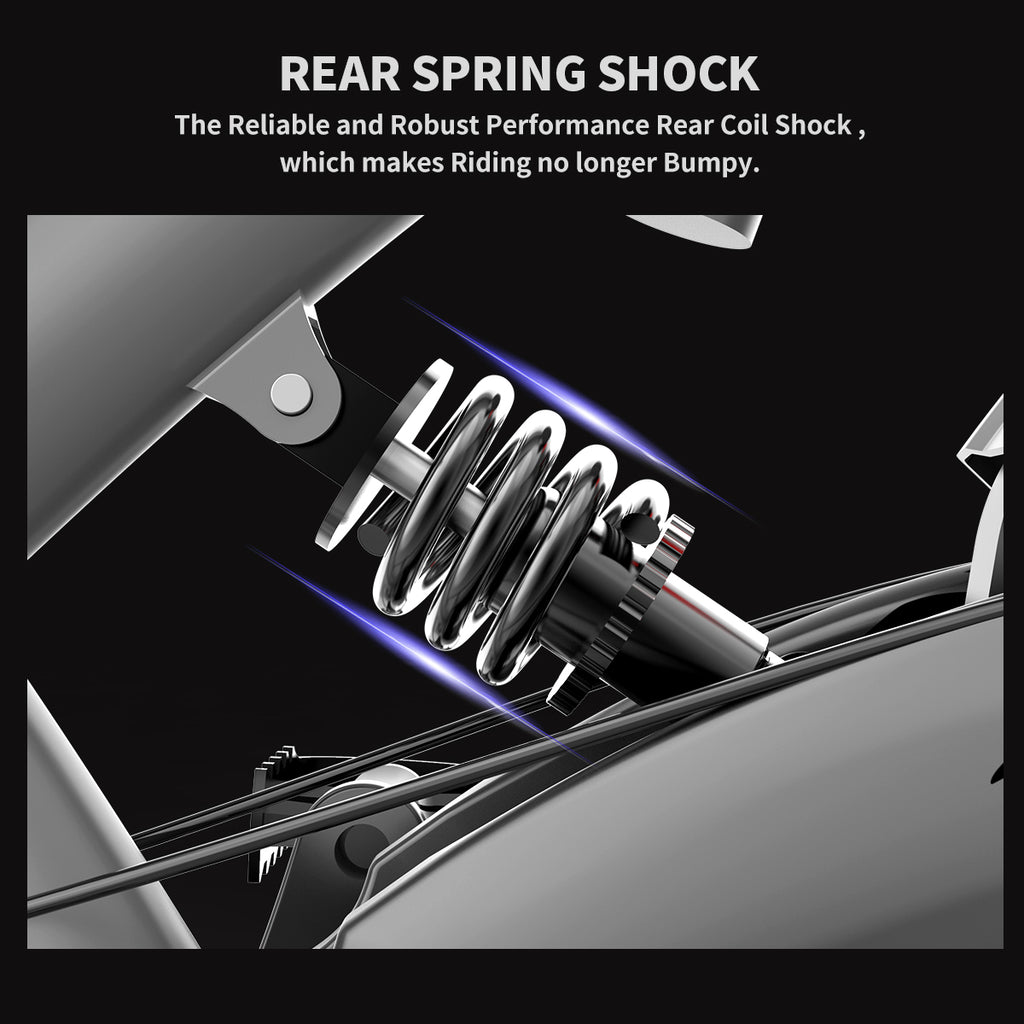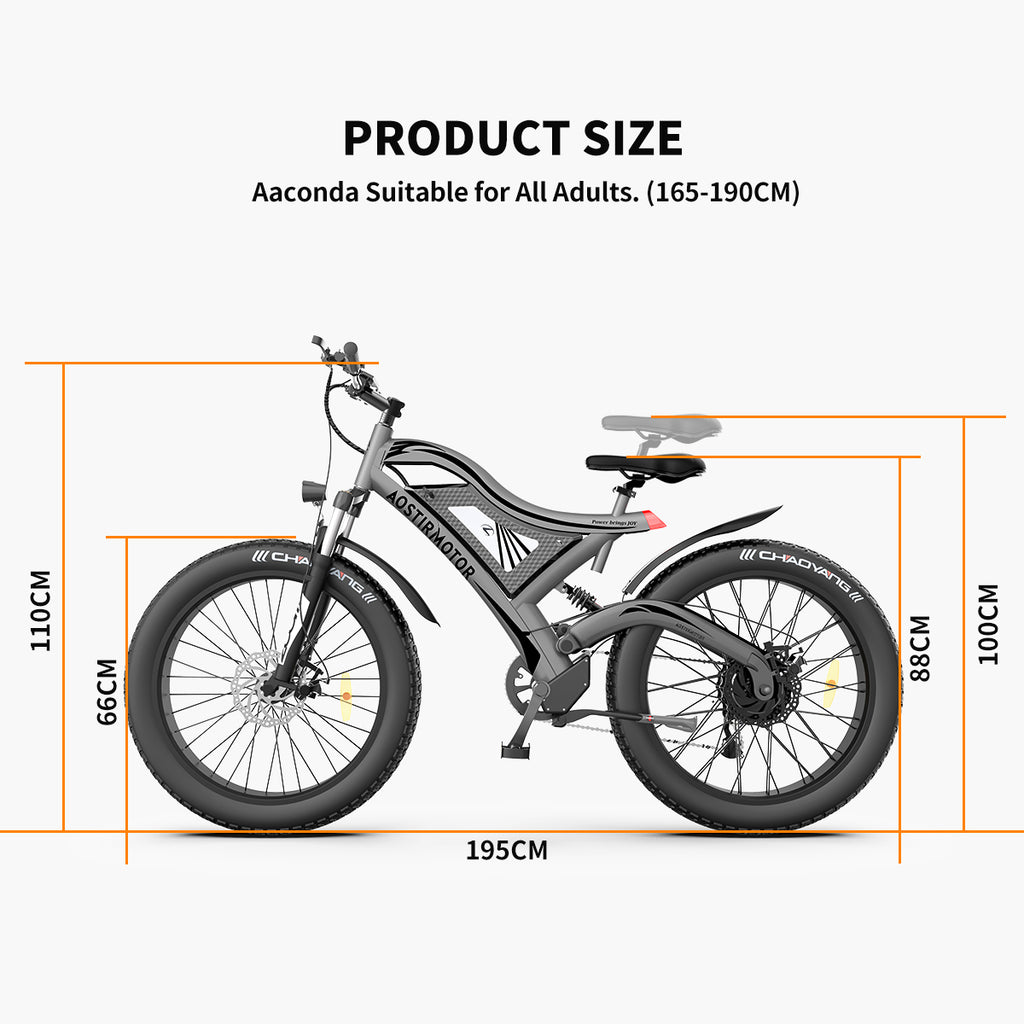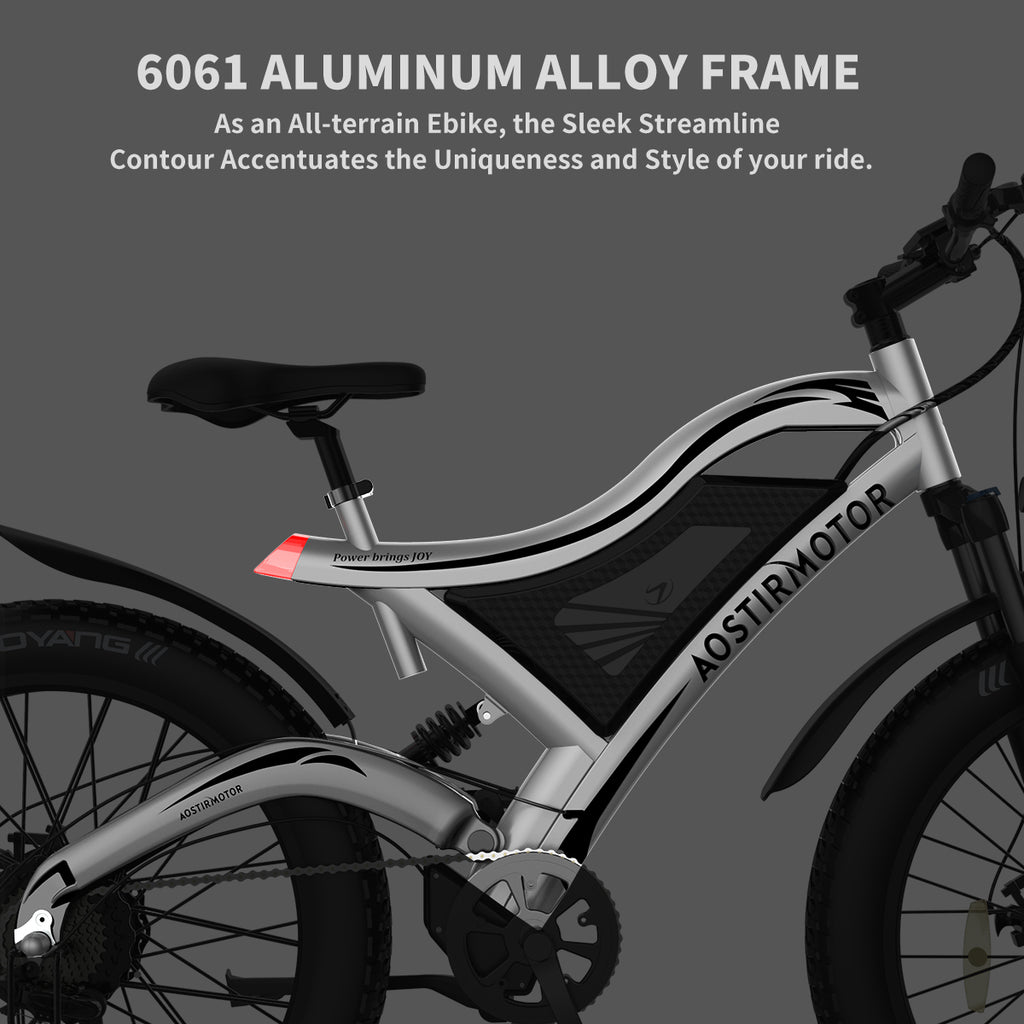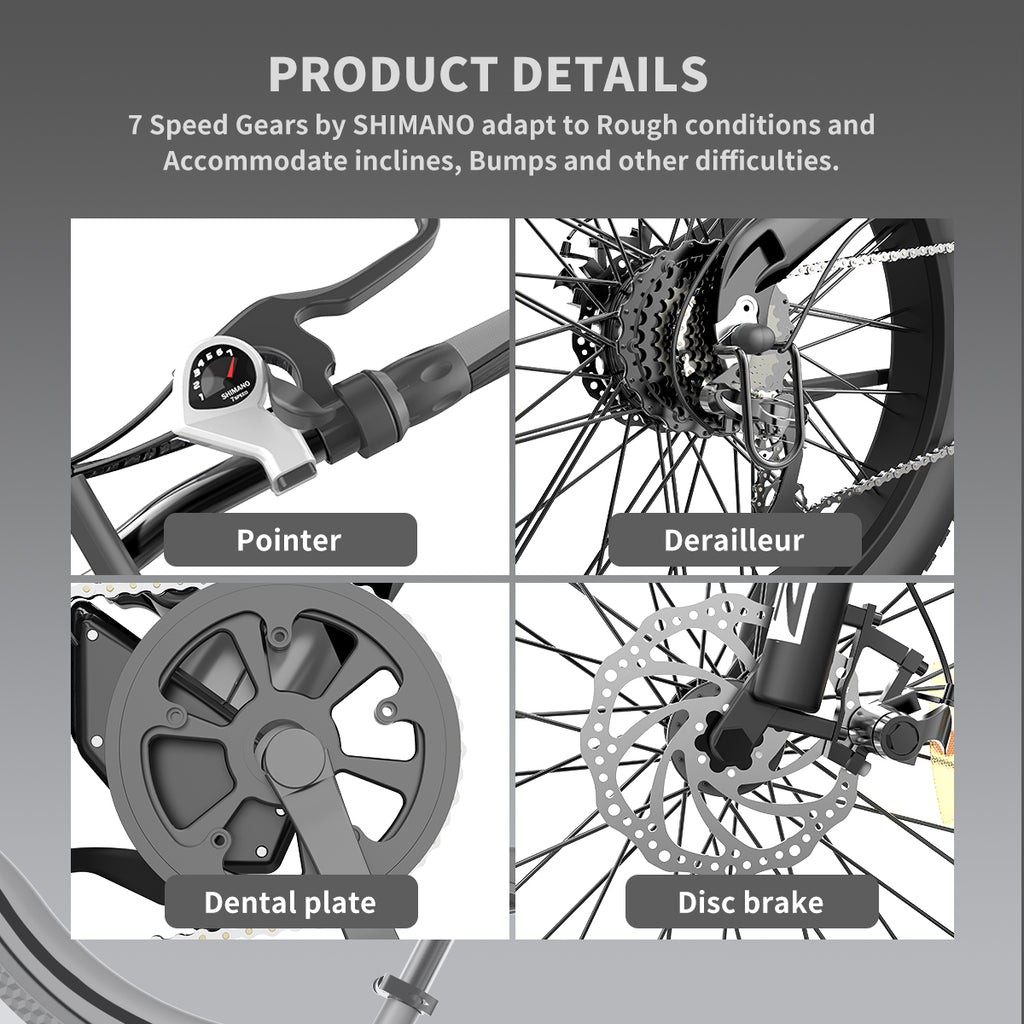 Specifications:
Brand: AOSTIRMOTOR
Model: S18
Color: Green, Grey (Optional)
Frame: 6061 Aluminum Alloy
Rim Material: Aluminum Alloy
Motor: 750W Motor
Controller: 48V 22A
Display: SW-U-LCD
Turn-Handle: Rotary
Lithium Cell Capacity: 48V 15Ah
Charging Time: 4-6 hours (Recharge regularly to extend the life of lithium cell)
Fork: ZOOM
Rear Rack: NO
Brake: F/R Mechanical Brake (With 4pcs Brake Pads)
Disc Brake: Front 180 & Rear 160
Brake Lever: Universal
Rim Form: Spoke Wheel
Tire: 26x4.0 inch Fat Tire
Throttle: With
Front Suspension: Fork Shock Absorption
Rear Suspension: Rear Spring Shock
Structure Shock Absorption: Lightweight Aluminum Alloy Frame
Light: With Front & Rear Light
Pedal: Universal
Footrest: Universal
Riding Mode: Pedal Mode/Boost Mode/Power-Mode
Ranges Distance: 25-35km (Pure Power-Mode)
Max Speed: 25km/h
Tube Clamp: D1=30mm/1.18in D2=38mm/1.5in
Handlebar Size: 31.8 * 660mm / 1.25 * 25.98in
Stem Size: 28.6 * 31.8 * 110mm / 1.12 * 1.25 * 4.33in
Saddle Size: 27.2 * 250mm / 1.07 * 9.84in
Saddle Height: 0.88-1.0m / 34.64 * 39.37in
Weight Capacity: 300lb
Item Size: 1.95 * 1.1m / 76.77 * 43.31in
Package Size: 1.63 * 0.82 * 0.28m / 64.17 * 32.28 * 11.02in
Package Weight: 40kg / 88.18lb

Package List:
1 * Electric Bike
1 * Li-ion Batterys
1 * Tool Kit
1 * Pedal
1 * Charger
1 * User Manual