PERFORMANCE
1500W ALUMINUM MOTOR
1500W Max Output
This 1500W brushless motor uses a star gear design to increase torque, improve energy efficiency, and enhance endurance, speed, and climbing performance. It also offers fast torque response and long-term durability.
CLIMBING PERFORMANCE
Excellent Climbing Performance 
Excellent cilmbing in off roads
The 48V 1500W brushless motor delivers the power to climb hills up to 38°. Its star gear design enhances torque, energy efficiency, and speed and climbing performance.
BATTERY CAPACITY
48V17.5AH LITHIUM BATTERY
High capacity, Waterproof Battery
The 48V17.5AH lithium battery is discreetly integrated into the frame, providing dual waterproof and dustproof protection, ensuring stable and powerful output. It offers a range of approximately 60KM in pure electric mode and 130KM in electric assisted mode.
Capability
SHIMANO 27-Speed Gears
This bike features an imported Shimano 27-speed transmission system with a customized 3-level chainring aluminum alloy crank, classic 9 gear combo, and precise SIS positioning for durable and enjoyable riding.
Smart LCD Display
The 5-inch Smart LCD Meter offers intelligent instructions with an integrated gear switch, cycling data display, and power output settings. Its IP54 waterproof and dustproof quality ensures durability and easy maintenance.
26*4.0 Inches Tires
26*4.0 inches fat tires experience ultimate comfort and stability fot all-terrain. With a tire width of 10cm, they provide excellent anti-skid and anti-vibration performance, allowing for a smooth ride with superior grip.
Double Shock Absorbers
The lockable front fork offers stronger comfort during collisions, improving the rider's experience. The soft tail rear oil spring suspension improves shock resistance and delivers excellent performance.
Removed Battery
The removable battery that is fully integrated into the frame with waterproof and dustproof protection. as its fast charging, it provides up to 4-6 hours of usage time whether at home or office place.
Hydraulic Brakes
Power-off hydraulic disc brake are equipped on both the front and rear, ensuring efficient and smooth emergency braking with quick heat dissipation.  
Bezior X Plus
Must-have for mountain Ridng
Specifications
Product size
198*115*105cm
Package Size
159*28*79.5cm
Product gross weight
40kg
Applicable height
165-190cm
Power assisted rangs
130km
Brakes
Hydraulic disc brakes
Transmission
Shimano 27-Speed transmission
Configurations
Package contents
1 x BEZIOR X PLUS Electric Bicycle
Package contents
1 x Charger
Package contents
1 x Wrench
Package contents
1 x Multi-function hexagon tool
Package contents
1 x Lock
Package contents
1 x Pump
Package contents
1 x User Manual
BEZIOR X PLUS
BEZIOR X PLUS electric folding power moped mountain bicycle, strong landing in 2022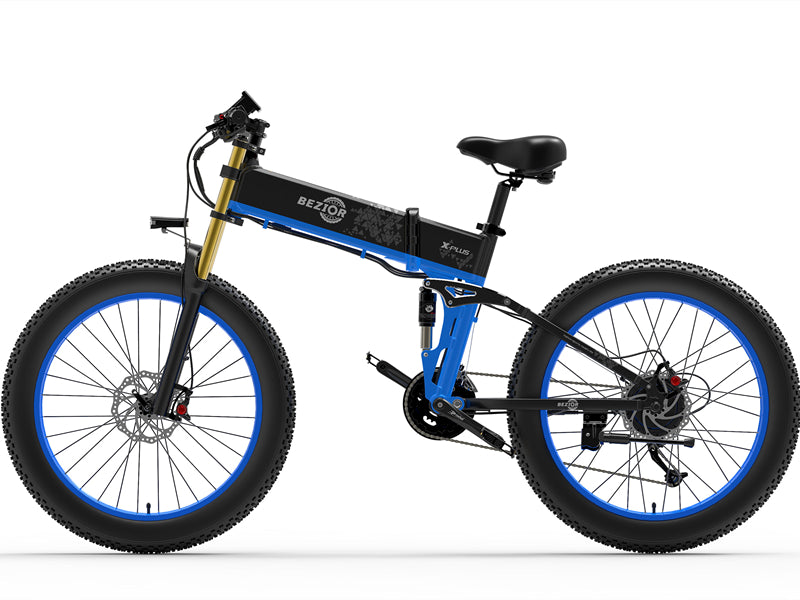 BEZIOR X PLUS is forged by lightweight aluminum alloy frame, front and rear double oil spring suspension structure, in addition, newly upgraded 48v17.5Ah power lithium battery, excellent 48V 1500W high-speed brushless motor. X PLUS using power-off oil disc, 26*4.0 wheel diameter, suitable for snow roads, asphalt roads, gravel roads and potholes. To accompany you to explore more riding fun in everywhere.
1500W BRUSHLESS MOTOR
1500W brushless motor is light in weight. Its internal use of star gear design can amplify torque and improve energy efficiency conversion rate. Increasing endurance range, improving speed performance and climbing performance, and fast in torque response and durable in lifetime.

48V17.5AH HIGH CAPACITY BATTERY
48V 17.5AH Removable lithium battery completely hidden inside the frame, waterproof and dustproof, double protection, strong output, always stable, easy to charge. It can reach a mileage of about 60KM in pure electric mode and about 130KM in power assisted mode.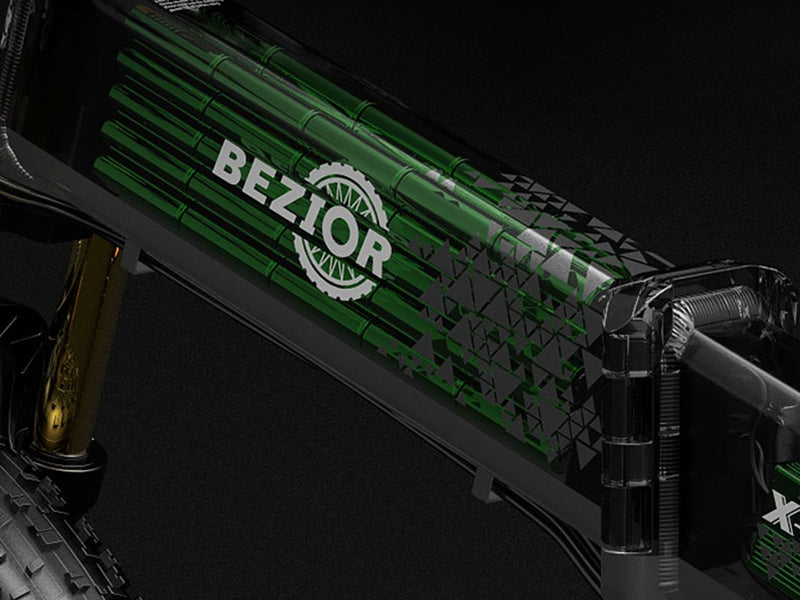 S900 SMART LCD DISPLAY
X-plus device intelligent LCD instrument, new interactive interface, LCD display, integrated gear switch, bicycle data viewing, power output setting, IP64 waterproof and dustproof quality are reliable.
EXCELLENT CLIMBING PERFORMANCE
The 48V 1500W brushless motor provide the power to ride in max climbing 38°. Its internal use of star gear design, can amplify torque and improve energy efficiency conversion, improving speed performance and climbing performance.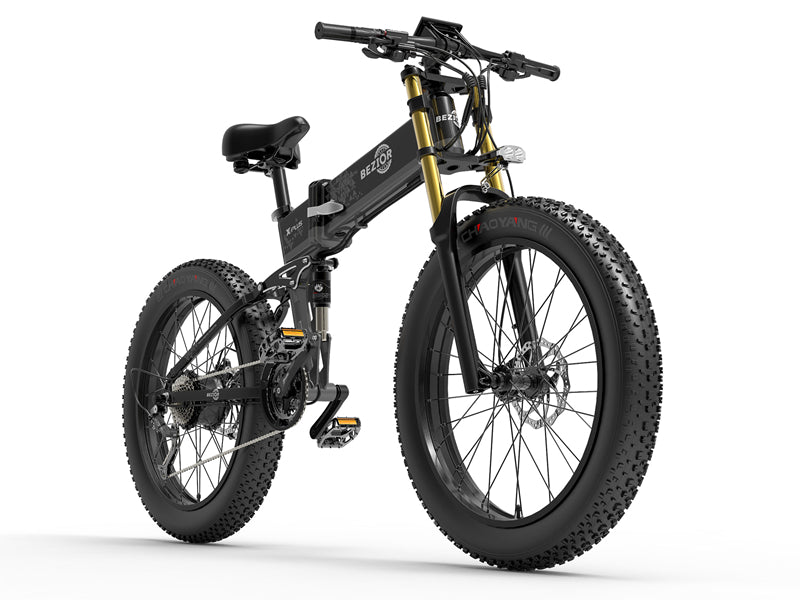 CAPABILITY
26*4.
0 I
nches 
Tire
s
, the tire has a width of up to 10 cm, anti-skid and anti-vibration functions, and has a longer span, bigger, faster, and less effort.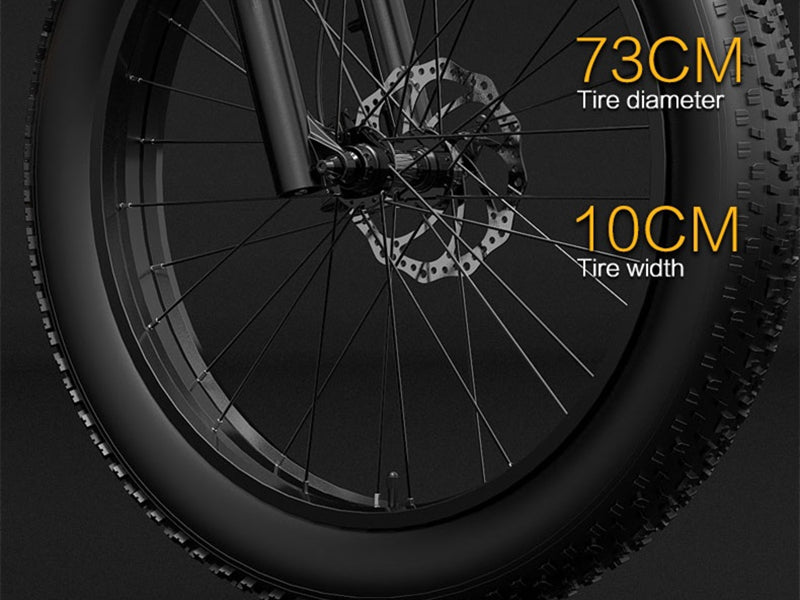 Double Oil Spring Shock Absorber, the dual oil spring suspension and lockable front fork are used to provide the rider with a stronger comfort experience during a collision, can easily pass the speed bump.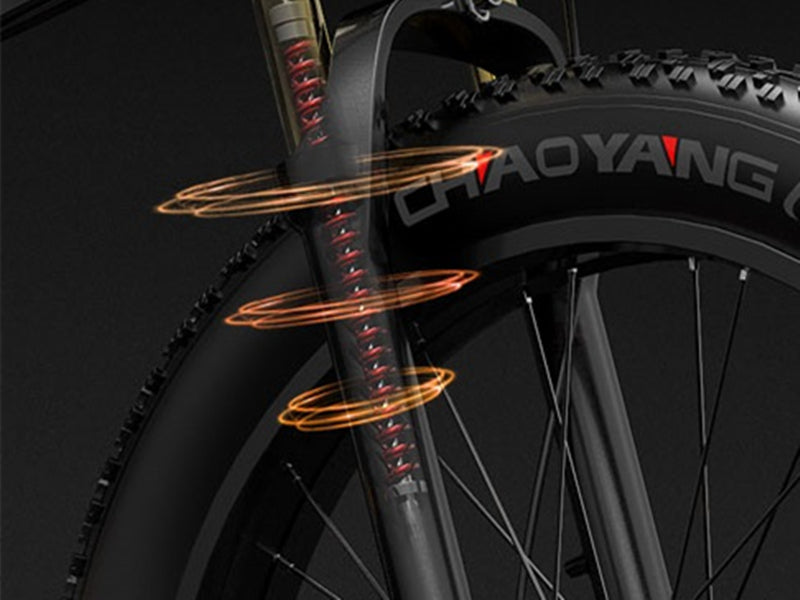 Shimano
2
7
-S
peed Derailleur
, imported Shimano 27-level transmission system, customized aluminum alloy crank 3-level chainring, classic combination of front 3 and rear 9-levels.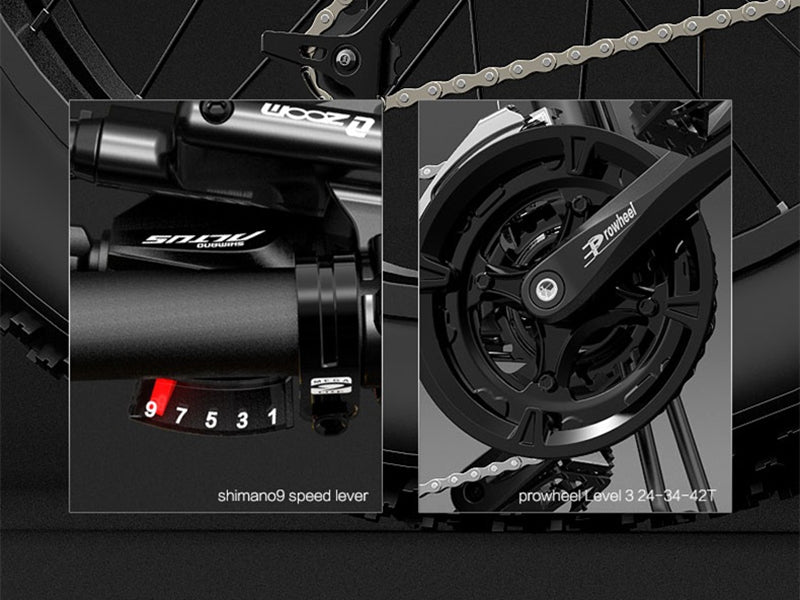 Hydraulic Brake,
 equipped it with giant 180mm full hydraulic disc brakes, complete with motor cutoff capabilities. Hydraulic brake lever, integrated hydraulic cylinder, achieve zero cylinder explosion rate.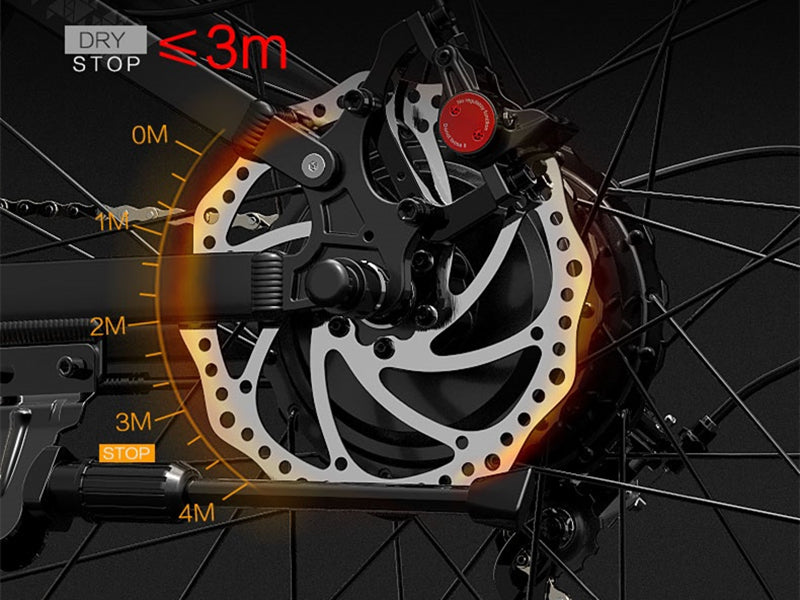 Fully Foldable Design
, can be put into the car's trunk, elevator, can be stored and placed at home without occupying space and easy to carry, adding a joy and convenience to your travel.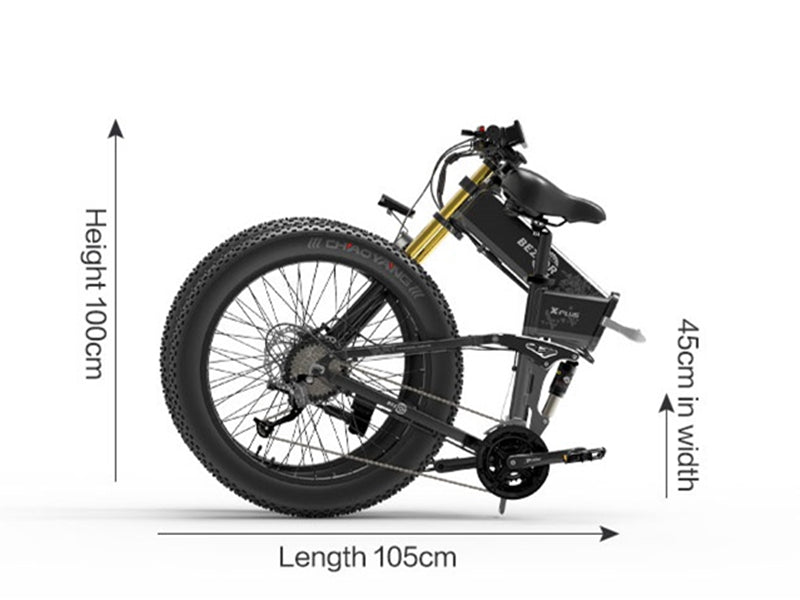 SPECIFICATIONS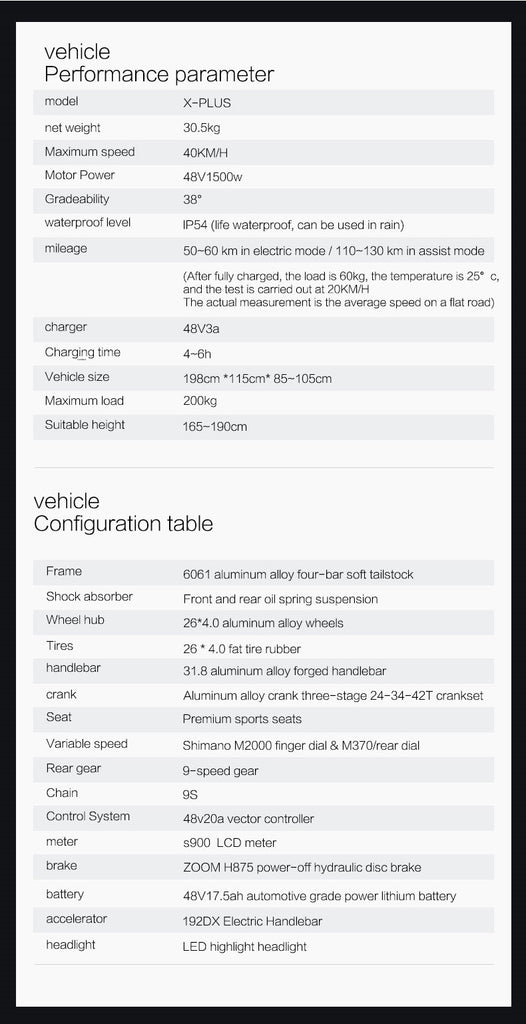 X PLUS Parameters

Size

Material

aluminum alloy

product size

198*115*85-105cm

Fold size

105*45*100cm

Package Size

159*28*79.5

Wheel

26*4.0

Performance

rough weight

40KG

net weight

30.5KG

Load

200kg

Applicable height

165*190cm

Max speed

25km/h

Max grade

38°

Waterproof degree

IP54

Standards

The charger

48V 3A

Battery capacity

17.5AH

Battery rate voltage

48V

Control system

48V 20a vector controller

Motor rated voltage

48V

Motor rated power

1500W

Charging time

4-6h

Brake Disc

H875 power-off hydraulic disc brake

Transmission

Shimano 27-level transmission

Package contents

1 x BEZIOR X PLUS Electric Bicycle

1 x Charger

1 x Wrench

1 x Multi-function hexagon tool

1 x Lock

1 x Front wheel quick release

1 x Pump

1 x User Manual