MOTOR POWER
350W BRUSHLESS MOTOR
350W MAX OUTPUT
Equipped with a 350W brushless motor, provides a smooth and quiet ride. With high-speed and precise control energy output, the geared motor has plenty of torque for starting from a standstill and climbing hills.
ALUMINUM ALLOY FRAME
BIKE FRAME
LIGHTWEIGHT AND PRACTICAL
Aluminum alloy Frame with durability and stablity structure looks very elegant and beautiful, it is lighter than normal eletric bike. The design of the frame adds to the overall aestheti appeal of the bike while also enhancing its performance.
BATTERY CAPACITY
36V 10.4Ah REMOVABLE BATTERY
HIGH CAPACITY, WATERPROOF BATTERY
The hidden lithium battery built into the bike frame is waterproof and dustproof. It can be quickly disassembled for charging at home or in the office, and 5-6 hours of fast charging can reach up to 80km of power-assisted mileage.
Capability
SHIMANO 21-Speed Gear
With the Shimano 21-speed gear, you can shift to a larger cog for uphill riding and downshift to a smaller cog at high speeds. The pedal-assist system can adjust the suitable speed to complete your journey.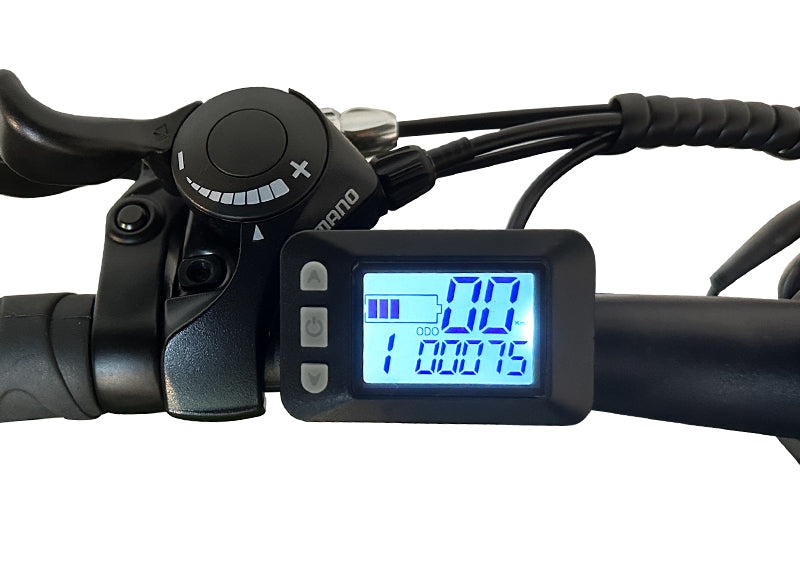 Smart LCD Display
The Intelligent LCD instrument, brand new interactive interface, integrated gear switch, bicycle data view, power output setting, IPX4 waterproof and dustproof quality are reliable.
27.5*1.95 Inches Tires
The 27.5"*1.95 inch tires are comfortable and stable. They have anti-skid and anti-vibration functions and a longer span, making them bigger, faster, and requiring less effort.
Mechanical Disc Brake
Mechanical disc brakes are suitable for long-distance riding and have a strong braking force, allowing for instant lock-up. They are less prone to damage and less affected by the environment.
Front Spring Suspension
The spring suspension enhances shock resistance, providing excellent performance, experience ultimate comfort with the front fork suspension system that effectively reduces disruption and responds to all road conditions.
Removed Battery
The removable battery can be carry and charged at home or anywhere, and it is completely hidden inside the frame. With fast charging, 5-6 hours is all that is needed.
GOGOBEST GM29
First Choose for City Bike
Specifications
frame
aluminum alloy frame
battery capacity
36V 10.4Ah
Power assisted rangs
80km
Pure Electric Ranges
40km
transmission
Shimano 21 Speed Gears
Brakes
Mechanical Disc Brakes
Product Size
178x62x112cm
Applicable height
150cm-200cm
Configurations
Package Contents
1 * GOGOBEST-GM29 bicycle
Package Contents
1 * Rear rack
Package Contents
1 * Front And Rear Fenders
Package Contents
1 * Charger
Package Contents
1 * Instructions
Package Contents
1 * Pump
Package Contents
1 * Lock
Package Contents
1 * tools
GOGOBEST GM29 Electric City Bicycle