PERFORMANCE
1000W BRUSHLESS MOTOR
1000W Max Output
Powered by a 48V1000w high-speed brushless motor that's designed to be lightweight and efficient. Its star gear design amplifies torque and improves energy efficiency conversion rate, resulting in reduced energy consumption and silent energy consumption. This also translates to an increased cruising range, improved speed performance, and excellent climbing performance.
CLIMBING PERFORMANCE
35°MAX CLIMBING
Excellent cilmbing in off roads
Thanks to its 1000w high-speed brushless motor, the NIUBILITY B26 has a large torque and impressive climbing ability of up to 35°. Whether you're cycling uphill or tackling mountainous terrains, this bike has the power to take on any challenge with ease.
BATTERY CAPACITY
48V 15AH BATTERY CAPACITY
High capacity, Waterproof Battery
Equipped with a 48V 15ah power supply 18650 lithium battery pack . The battery is waterproof and dust proof, providing double protection and a strong output that's always stable. With this battery, you can expect a remarkable mileage of up to 100KM, making it an excellent choice for longer rides.
Capability
Smart LCD Display
The bike features a high-definition liquid crystal display that provides real-time information such as speed, power, mileage, gear position, driving time, and status information. This display makes it easy to monitor your progress and adjust your speed and power settings as needed.
Mechanical Disc Brake
Feature a dual system of front and rear disc brakes that ensures fast heat dissipation and efficient braking. The brake system automatically cuts off the power, and the emergency brake can also brake smoothly and effectively.
26*4.0 Inches Fat Tires
26*4.0 inches wheels that provide a comfortable and stable ride on all types of roads. The tires have anti-skid and anti-vibration functions, making it easier to navigate rough terrains with less effort.
SHIMANO 7-Speed Gears
The SHIMANO 7-speed gears is a reliable gear shifter that allows you to shift to a larger cog for uphill riding and downshift to a smaller cog at high speeds. Combined with the pedal-assist system, you can easily adjust your speed and find the perfect level of assistance for your journey.
Front Fork Suspension
The front fork suspension system effectively reduces disruption and responds to various road conditions, providing you with the ultimate comfortable experience. This feature makes it easier to tackle bumpy terrains, making it an excellent choice for off-road adventures.
Removed Battery
The removable battery can be charged at home or anywhere, making it convenient for you to charge the bike whenever and wherever you need to. The battery is completely hidden inside the box, ensuring that it's waterproof and dustproof, providing extra protection for your bike.
NIUBILITY B26
Must-have for mountain Riding
Specifications
Product Size
186*67*113cm
Applicable height
160-190cm
Transmission
SHIMANO 7-Speed Gears
Brakes
Mechanical disc brakes
Configurations
Package Contents
1 * Niubility B26 Electric Moped Bicycle
Package Contents
1 * Charger
Package Contents
1 * Instructions
Package Contents
1 * Pump
Package Contents
1 * Lock
Package Contents
1 * tools
Niubility B26 Electric Fat Tire Mountain Bike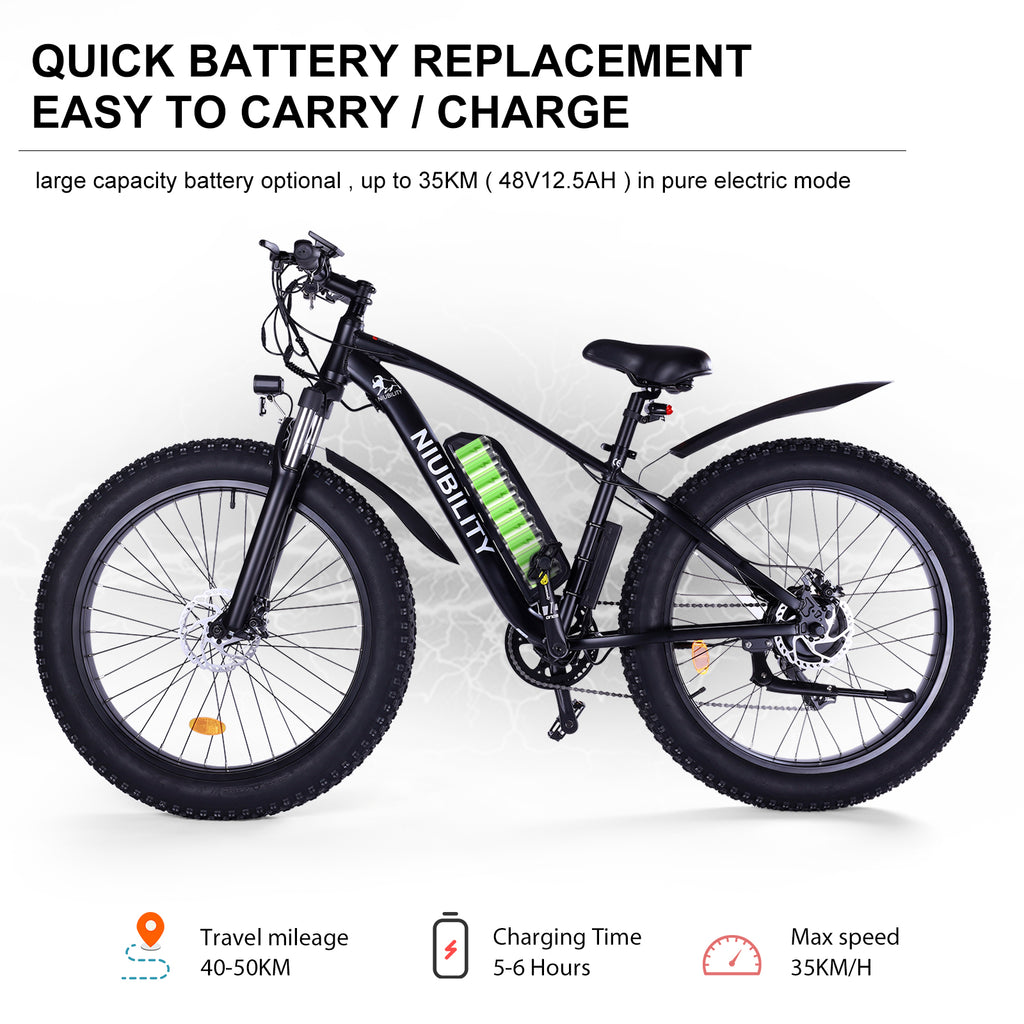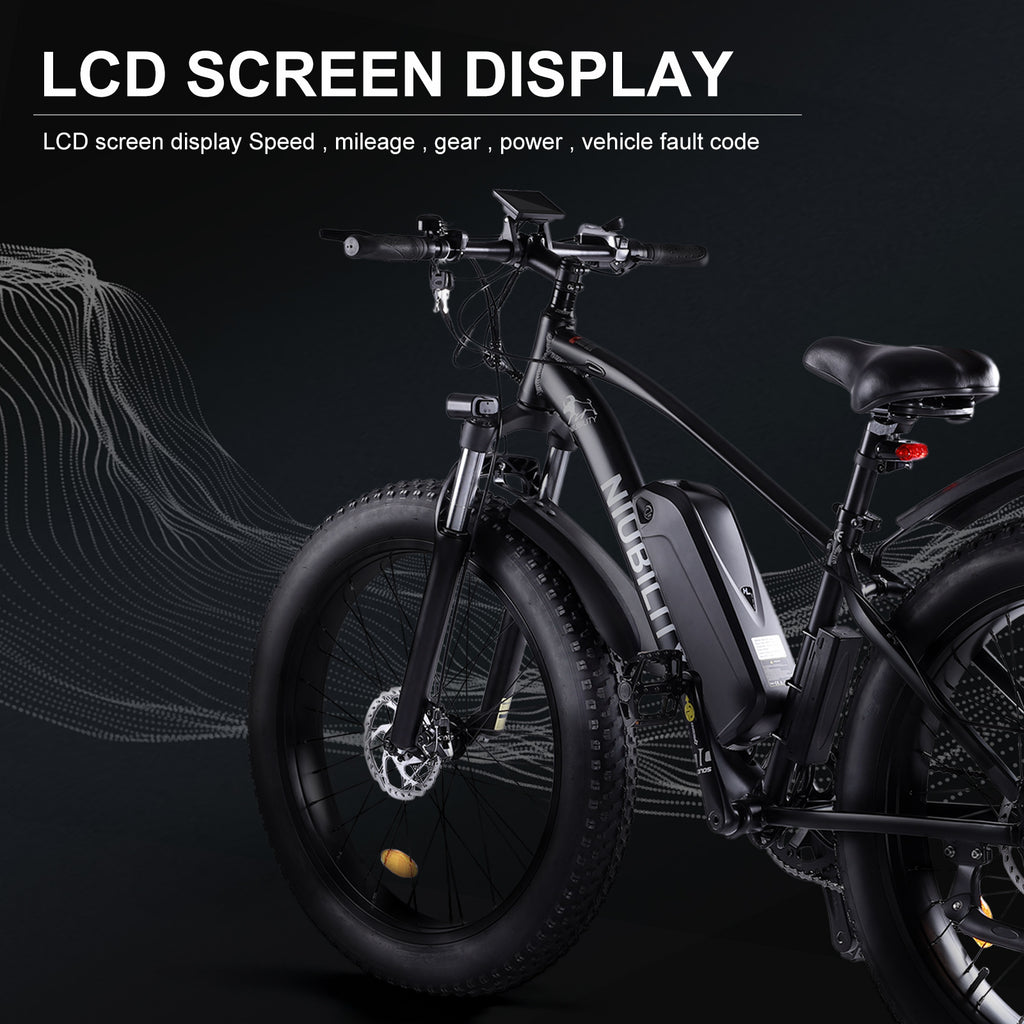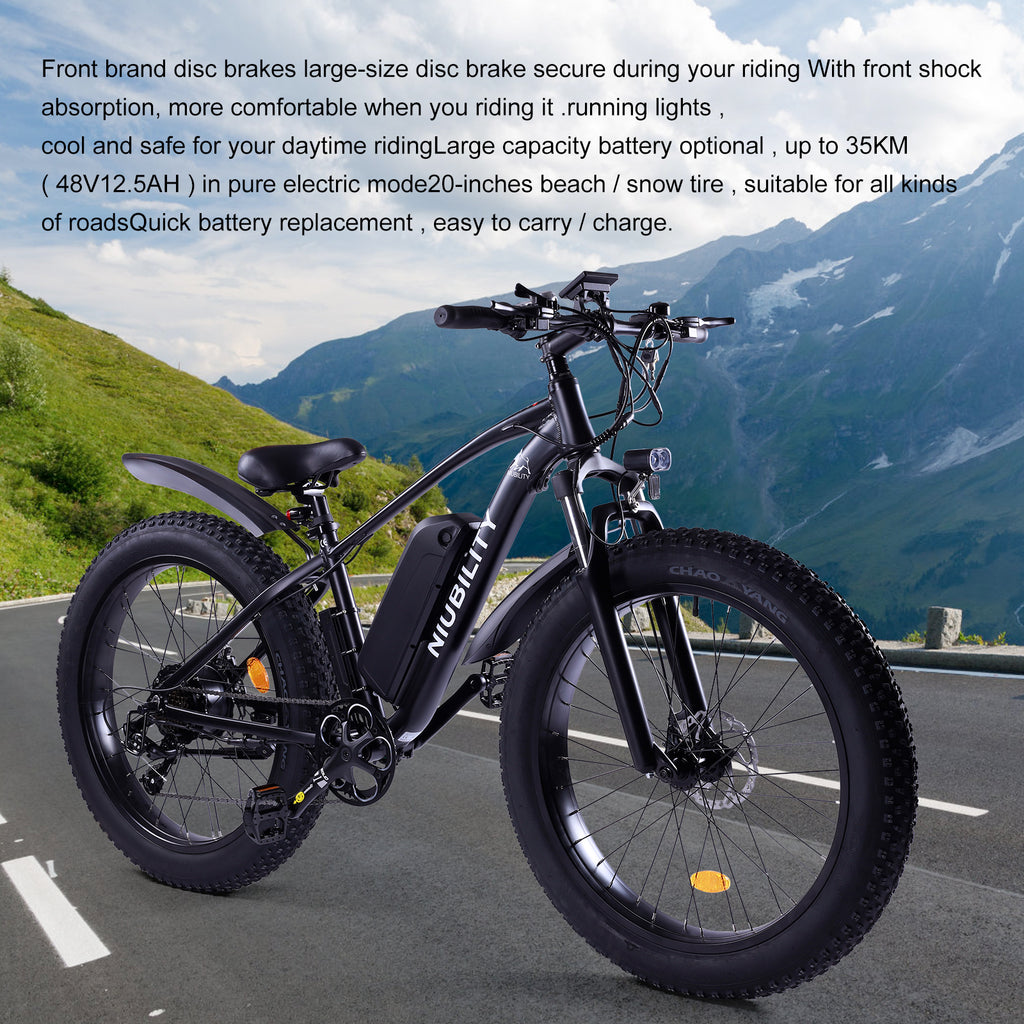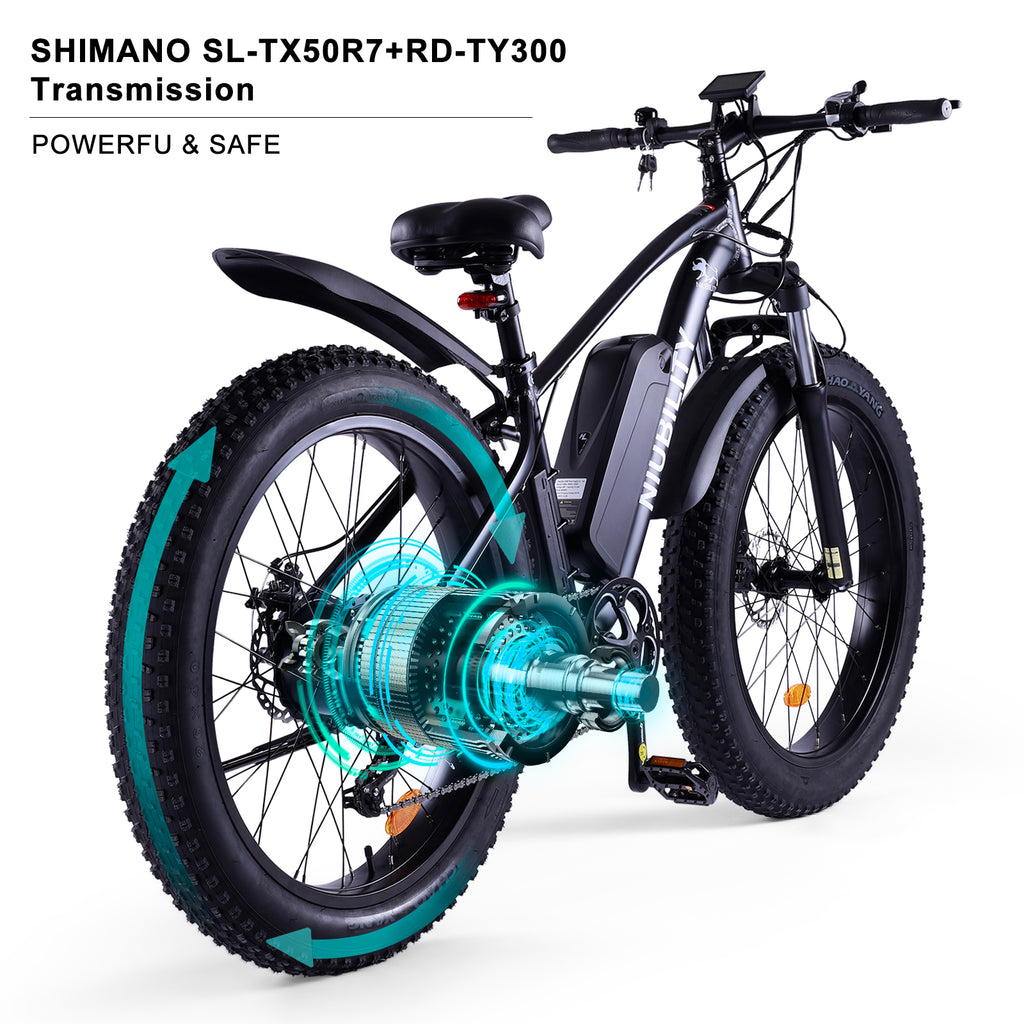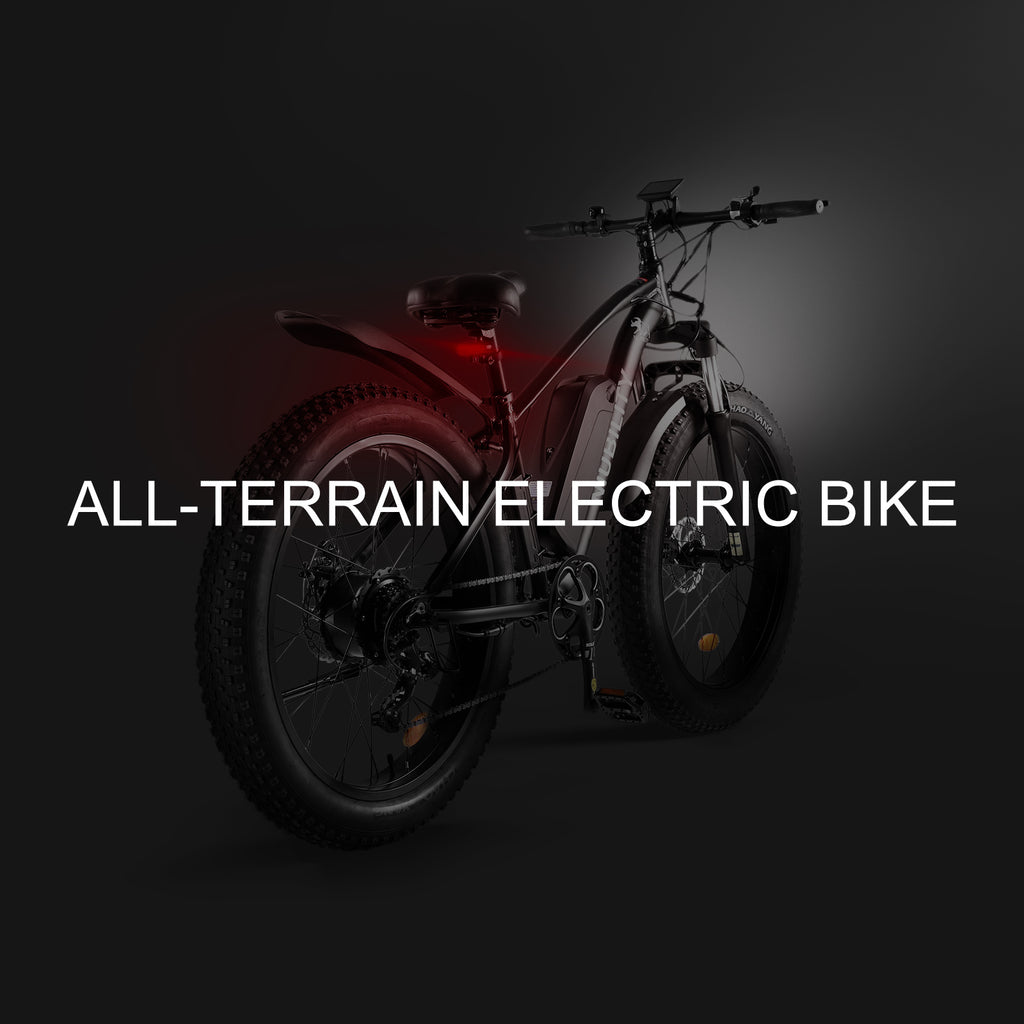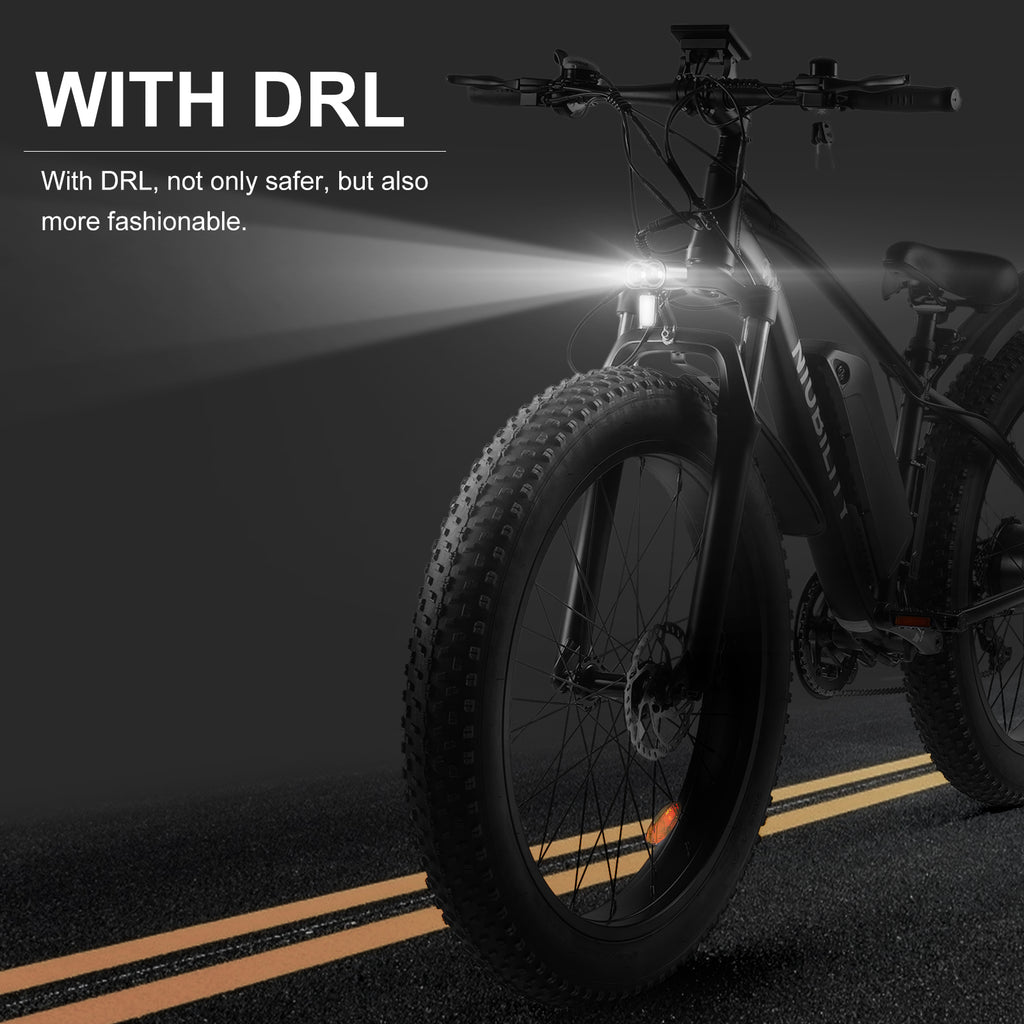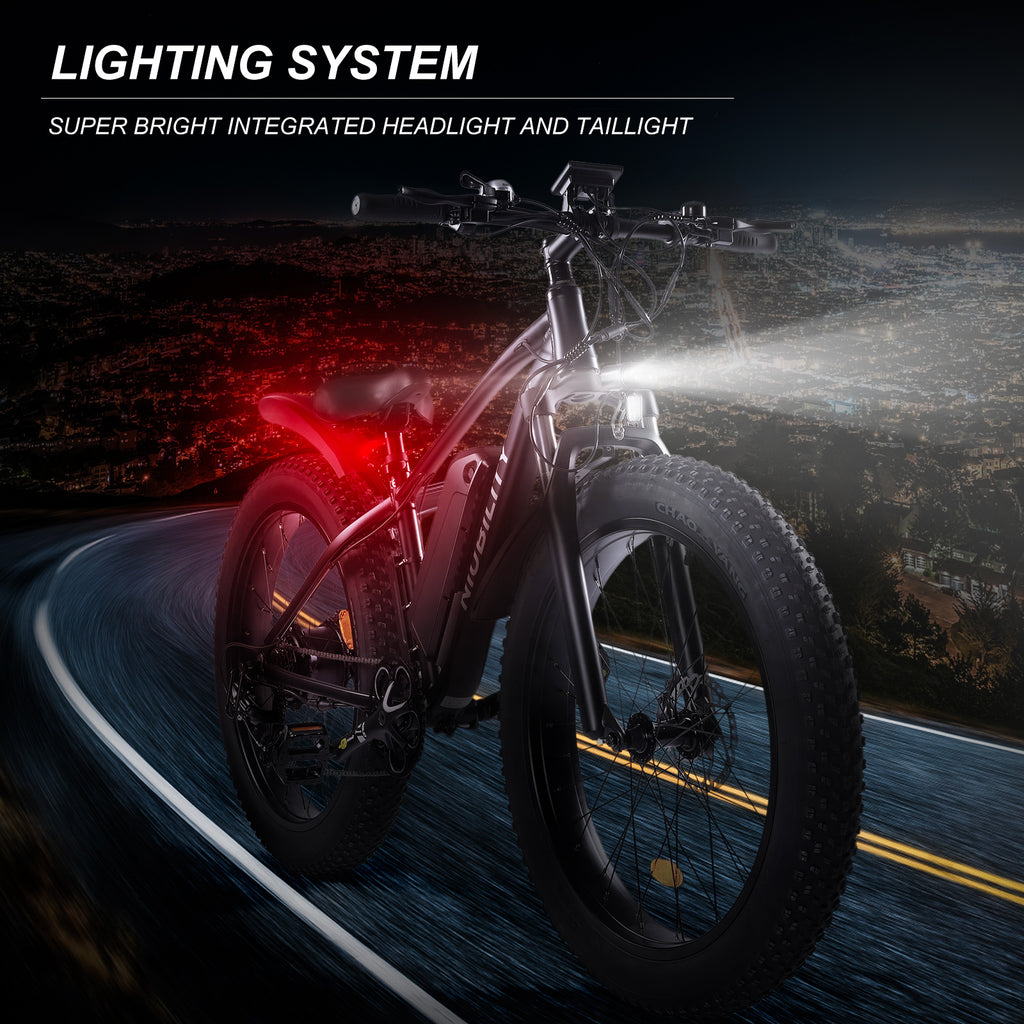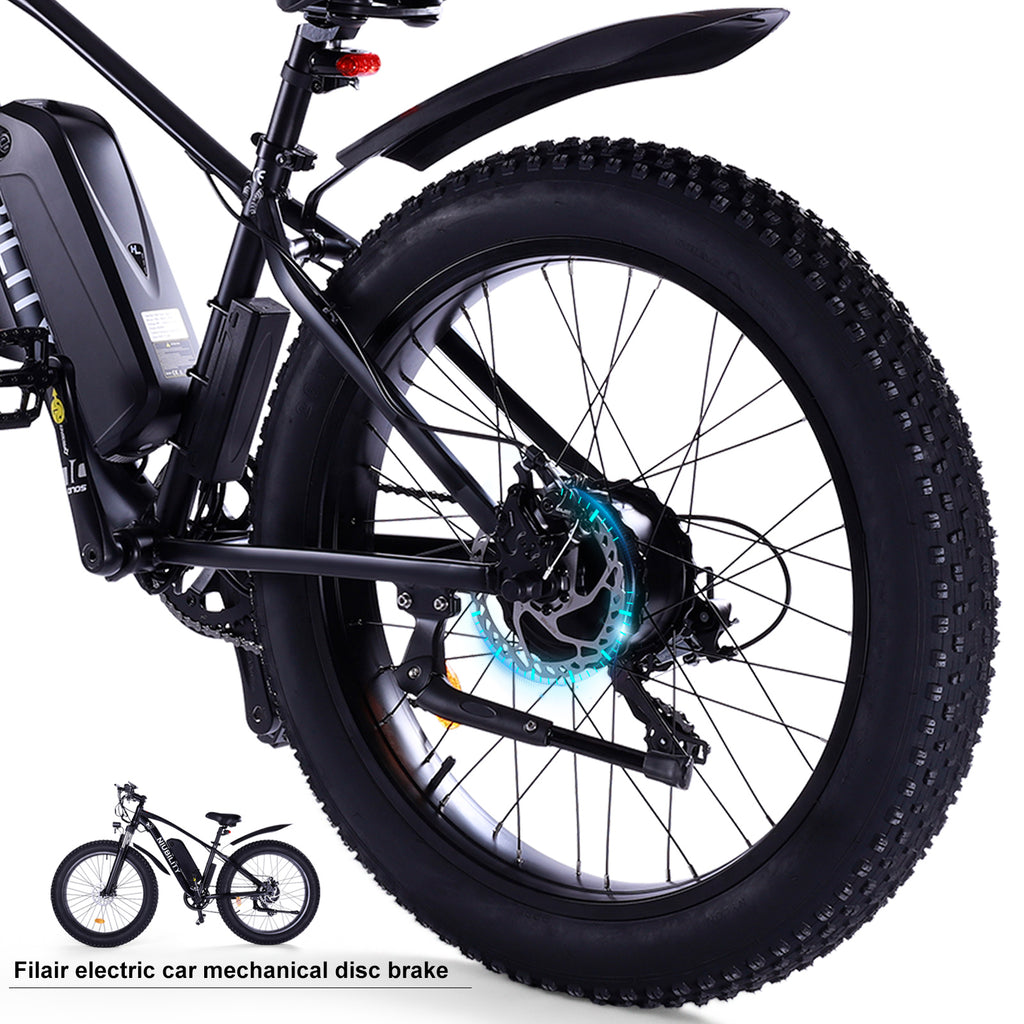 B26 Parameters

Size

Material

aluminum alloy

Package Size

158*28*79CM

Product Size

176*83*63CM

Wheel

26*4.0 inch wheels

Performance

Net Weight

30KG

Gross Weight

35KG

Load

120KG

Applicable height

160-190cm

Max speed

25km/h

Max grade

35°

Waterproof degree

IPX-6

Standards

The charger

54.6V2A

Battery capacity

12.5AH

Control system

48V 18a vector controller

Motor rated voltage

48V

Motor rated power

1000W

Charging time

5-6h

Transmission

SHIMANO SL-TX50R7+RD-TY300

Brake

Mechanical disc brake

Package

Contents

1 x Niubility B26 Electric Moped Bicycle

1 x Charger

1 x Pedal

1 x Installation tool

1 x Mudguard

1 x User Manual

1 x Taillight

1 x Picture album